- Fashion -
The colors
of luxury
Burberry beige, Chanel black, Dior gray, Fendi yellow, Tiffany blue, Cartier red, Hermès orange...
The world's greatest luxury brands have an iconic color code recurrently expressed through their products but above all through their communication. Stemming from their historical heritage, this distinctive shade must keep step with the times and be reinterpreted so as to remain current.
Just as coats-of-arms served in Medieval times to single out friends and enemies, the colors of a brand are first and foremost a token of recognition. To help consumers nd their way amidst the jungle of existing temptations, a brand has to stand out from the rest. Neuroscience con rms that color is the major identifying element perceived by our brains, well before shape. Capitalizing on just one color effectively fosters the singularity of a brand. Since this color is not there by chance, but is on the contrary rooted in history, it simultaneously reinforces its authenticity.
THE COLOR OF SUCCESS
Authenticity... A key value in attempting to win over the new generation of Millennials well-accustomed to marketing blurb but eager for genuinely unique premium brands.1 Playing with logos to create a strong impression is not always a credible option for demanding consumers who are perfectly capable of decoding advertising strategies. Taking a subtler approach by highlighting a colorful heritage while reinventing themselves in order to take the leap into modern times: such is the challenge successfully met by certain major brands. As Maria Grazia Chiuri2 explains in referring to the Millennials : "We have to move this brand (Dior) into the future". I am the present and they are tomorrow."
BURBERRY BEIGE
Thomas Burberry created his coat-making company in 1856 when he was just 21 years of age, a pretty bold move for a young apprentice! A little over 20 years later, he invented gabardine, a waterproof fabric that revolutionized rain apparel. In 1912, the famous Burberry trench coat was patented. Initially a military garment, it featured the famous khaki beige and all the details that were useful within that particular context: a gun ap buttoned at the chest, D-rings on the belt for map cases and equipment, and epaulettes for displaying of cers' ranks. Beige is a classic and timeless color that has remained an unmistakable brand signature.
DIOR GRAY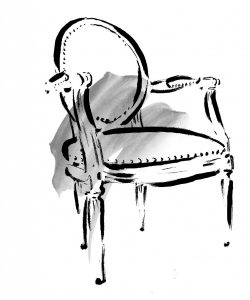 Maria Grazia Chiuri's second haute couture runway show kept up the proud tradition. Her fall/winter 2017-2018 collection staged far more than 50 shades of gray, the cult color of Christian Dior, as showcased in the 70th anniversary retrospective exhibition of the Maison presented this year in Paris. Gray like the house where he was born in Granville; pearly gray like the façade of 30, Avenue Montaigne; like the upholstery of the legendary oval-backed Louis XVI chairs and the Gris Montaigne collection, which transforms color into a fragrance. Dior gray is the embodiment of "this incredible balance between re nement and joie de vivre"3. The founder was convinced that gray goes with everything and remains chic in all circumstances, "and is thus a color recommended for accessories".
FENDI YELLOW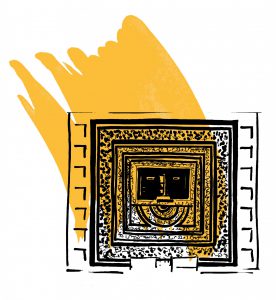 A story of women, under the Italian sun. Sunny yellow has been inextricably bound up with the Rome-based Maison since 1933. At the time, the Pergamena nish was a natural papyrus-colored yellow leather. Widely used for Fendi leather goods, it became its symbol. Yellow has since popped up across all the brand's design codes, from it bags to fragrances, since the Furiosa perfume was slightly yellow-tinged. But Fendi has also transcended its heritage through several generations of astute women. In 2017, the brand called upon the talents of a young Russian street artist to transform the rooftop of the Palazzo Fendi in Rome into a work of art: a naturally yellow Caligraffitti!
TIFFANY BLUE
The famous Tiffany Blue carries Pantone reference 1837 (the year the Tiffany boutique opened in New York City), but does not appear on any colour swathe, since it remains the exclusive property of the House and was chosen by its founder, Charles Lewis Tiffany. Turquoise made its first appearance on the cover of the Blue Book, the brand's jewelry catalog, in 1878. Its origin probably stems from the amazing shade of American robin's eggs, as well as from the late 19th century craze for turquoise. When Tiffany's opened in Paris, the obelisk of the Place de la Concorde was lit up in Tiffany blue. And the little blue box has been the stuff of dreams for women ever since Audrey Hepburn starred in Breakfast at Tiffany's...
CHANEL BLACK
"Black, because it accentuates essentials, and recalls the monastic rigor of the uniforms of the Aubazine orphanage uniforms. Because for Gabrielle Chanel, it reveals a woman's radiance." It's all there in this excerpt from Chapter 11 of Inside Chanel, a web series telling the story of the brand fundamentals. A ne example of successfully spanning the distance between the founder's past and the early 21st century. In 1926, Chanel black became the color of elegance with the legendary little black dress, codenamed LBD. This simple dress caused a scandal before reigning supreme over the world of fashionable elegance for more than 90 years. Inseparable from white, black never goes out of fashion, as Karl Lagerfeld masterfully demonstrates with each new season.
By Anne-Marie Clerc
Illustrations : R.Atlan
1-On this topic, La génération Y et le luxe (Generation Y and luxury) by Eric Briones and Grégory Casper (Dunod – April 2014)
2-Nowfashion.com, June 8th 2017
3-Marketing du Luxe : stratégies innovantes et nouvelles pratiques (Luxury Marketing: innovative strategies and new practices),by Eugénie Briot and Christel De Lassus (Editions EMS February 2014).