- Portfolio -
Daniela Jeremijevic
Deliciously daring
Exhilarating ideas, voluptuous colors, along with humor, pleasure and the use of light to sculpt scenes like Renaissance paintings... Daniela Jeremijevic's dreams know no bounds and she shares them while displaying a voracious appetite for life. Mmm!
Once upon a time there was a communication student working on the switchboard of one of the most creative advertising agencies in Paris, who decided to while away the time between phone calls by reinventing the canteen menus and subsequently became one of the firm's finest copywriters. Once upon a time, a few years later, there was a journalist covering a car rally in the middle of Mauritanian sand dunes, who decided she would like to shoot a few pictures to back up her words and used an amateur camera to do so. Freeze frame. Struck by the power of this mode of expression capable of telling a story in a fraction of a second, she decided that photography would become her playground
but she was the only one to know that. To lend credibility to her burgeoning vocation, she chose to create a book and opted for the theme of the Moulin Rouge. Finding her way backstage of the show, she captured the magic, the fantasies, the emotions, the flamboyant colors, the black and the white. The immediate success of this project gave her wings to fly off towards another extremely ambitious project merging her twin passions for storytelling and for good food. This was the birth of Gastronomik, at least in her mind. She still had to convince 20 stars of French gourmet cuisine to infuse their own distinctive flavor into a reinvented version of the destiny of splendid heroines with ferocious appetites, bursting out of glamorous romantic worlds. But nobody can prevent Daniela from following her dreams, and others tend to follow wherever she leads, and find themselves eager for more. Because over and above her by Michèle Wouters Pictures from the book Gastronomik - Recettes Toquées by Daniela Jeremijevic - Nov. 2010.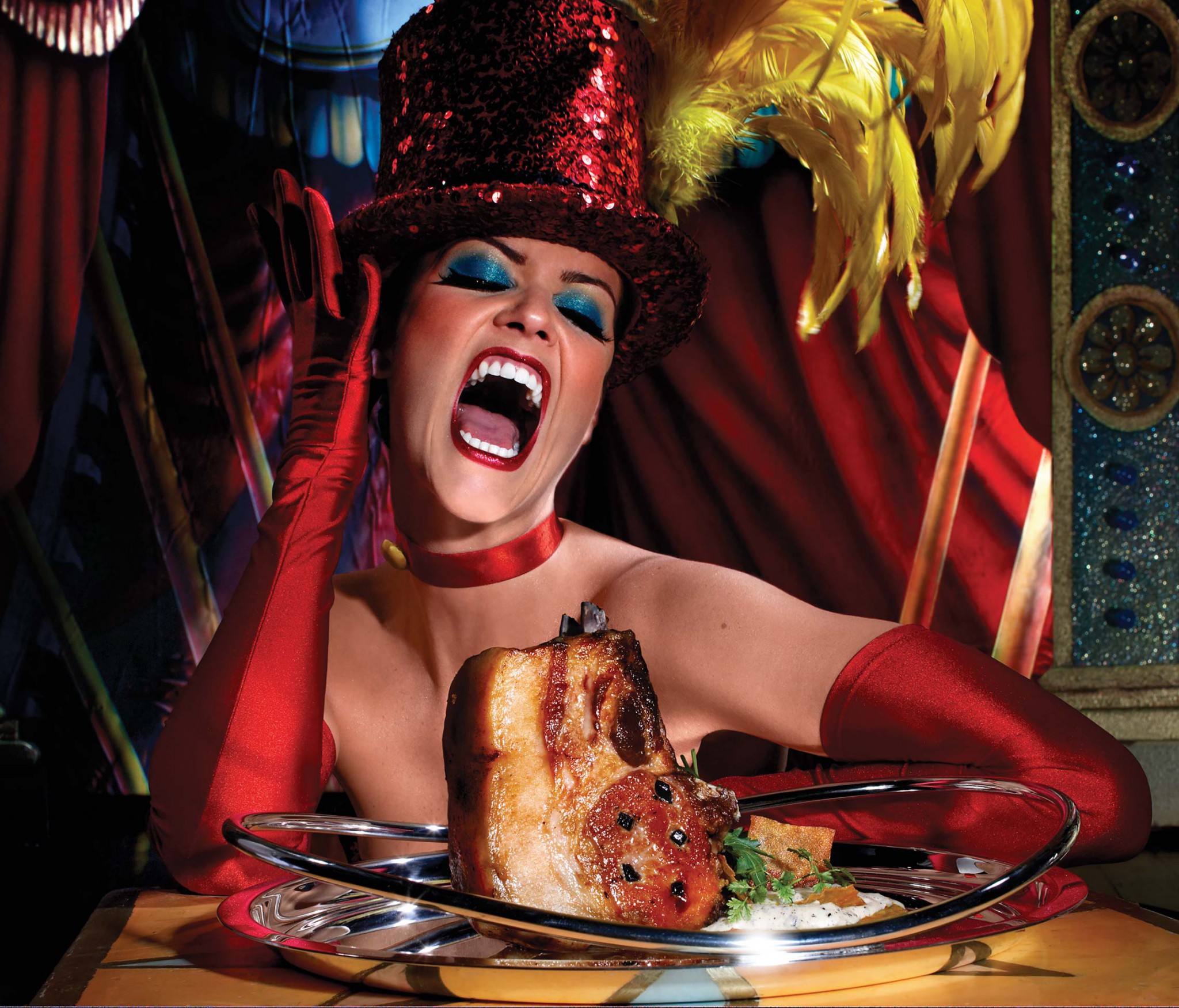 LA GOULUE/PORK EPIQUE: PAN-ROASTED PORK CHOP. AT LAST A DISH WORTHY OF THE COLORFUL CHARACTER DEPICTED IN LA GOULUE (GREEDY GUTS) BY TOULOUSE LAUTREC.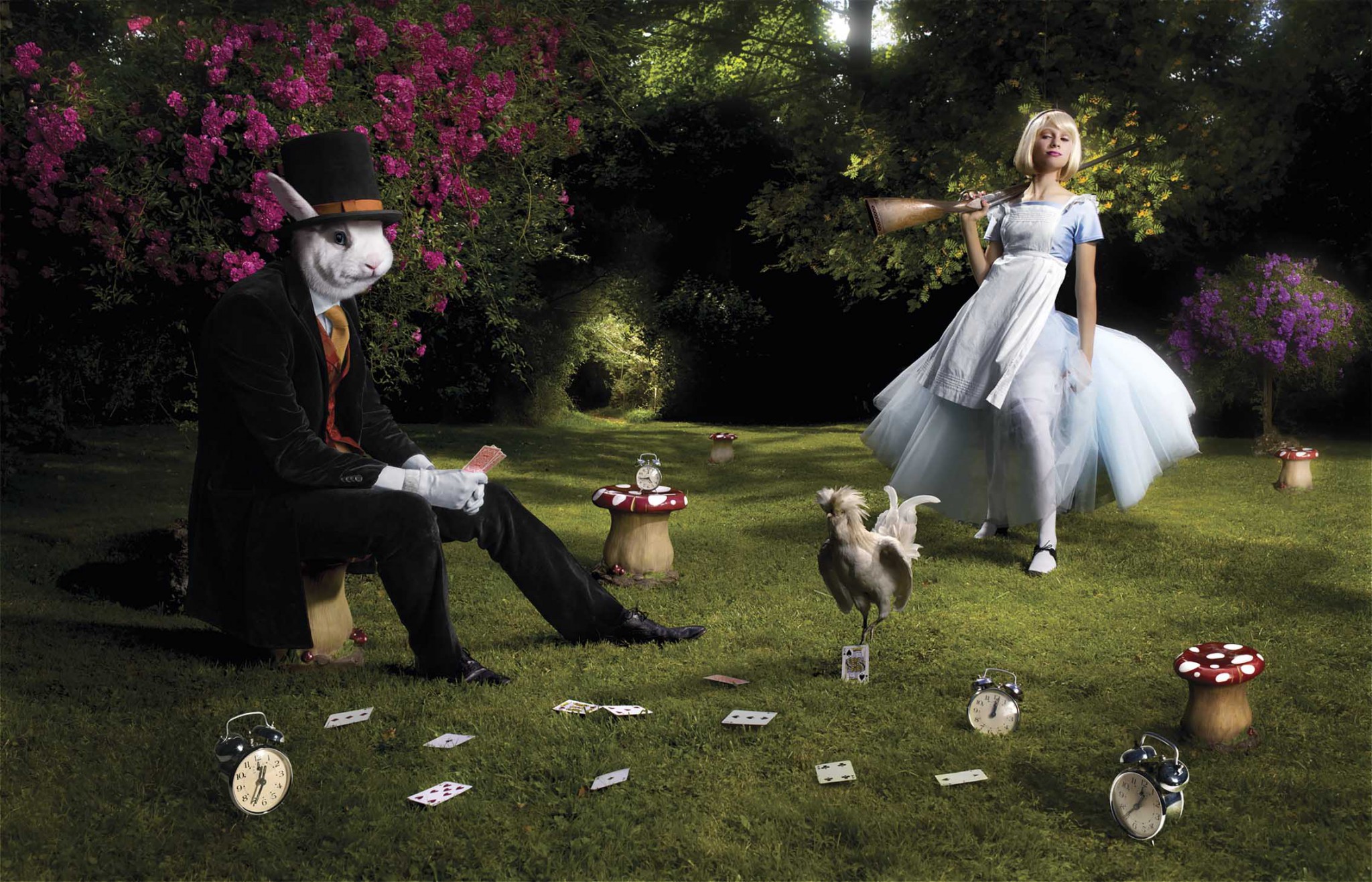 ALICE/MISTER RABBIT IN WONDERLAND: WEARY OF BEING LECTURED, ALICE HAS DECIDED TO BUMP OFF HER RABBIT.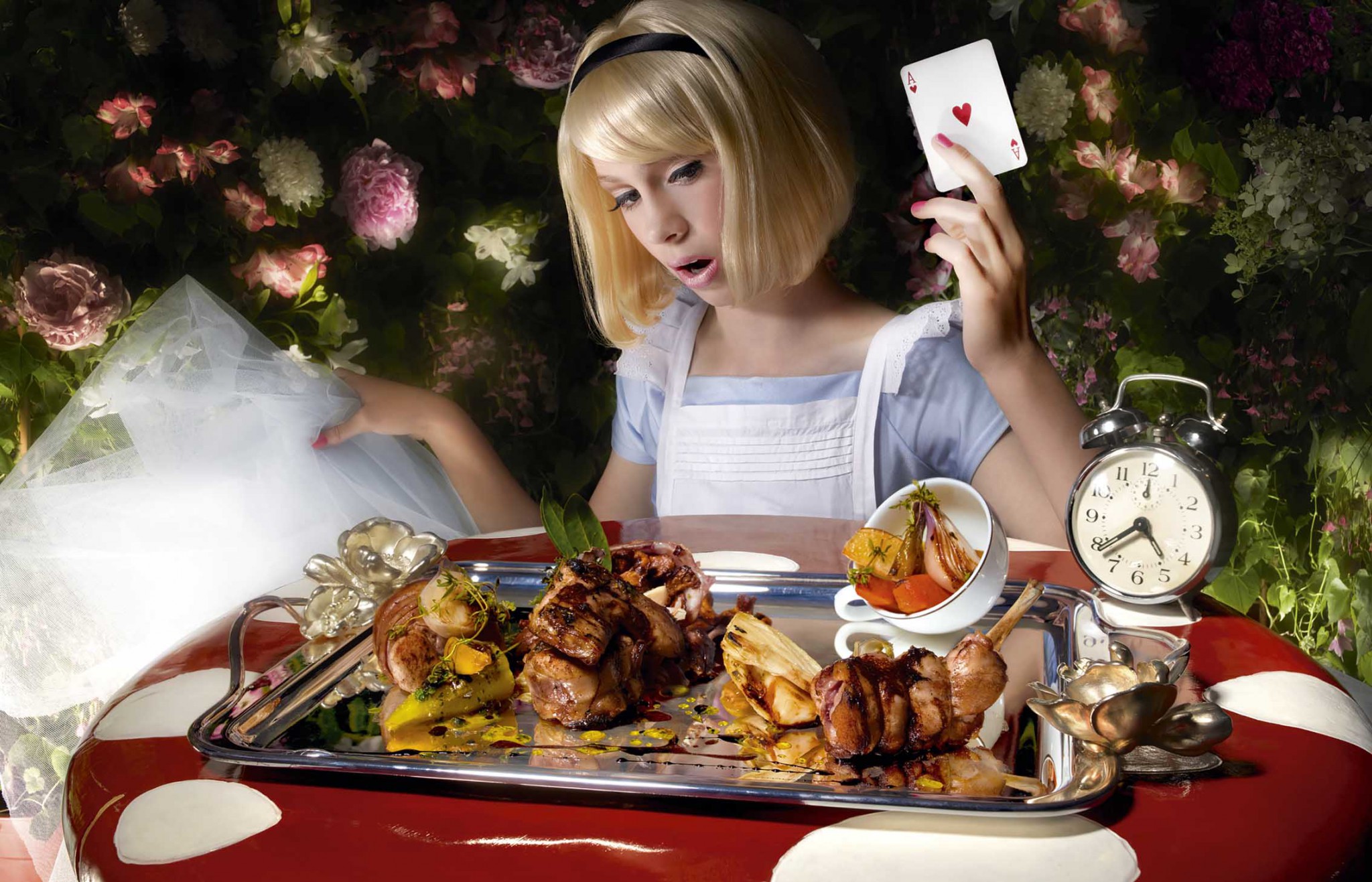 ALICE/MISTER RABBIT IN WONDERLAND: WEARY OF BEING LECTURED, ALICE HAS DECIDED TO BUMP OFF HER RABBIT.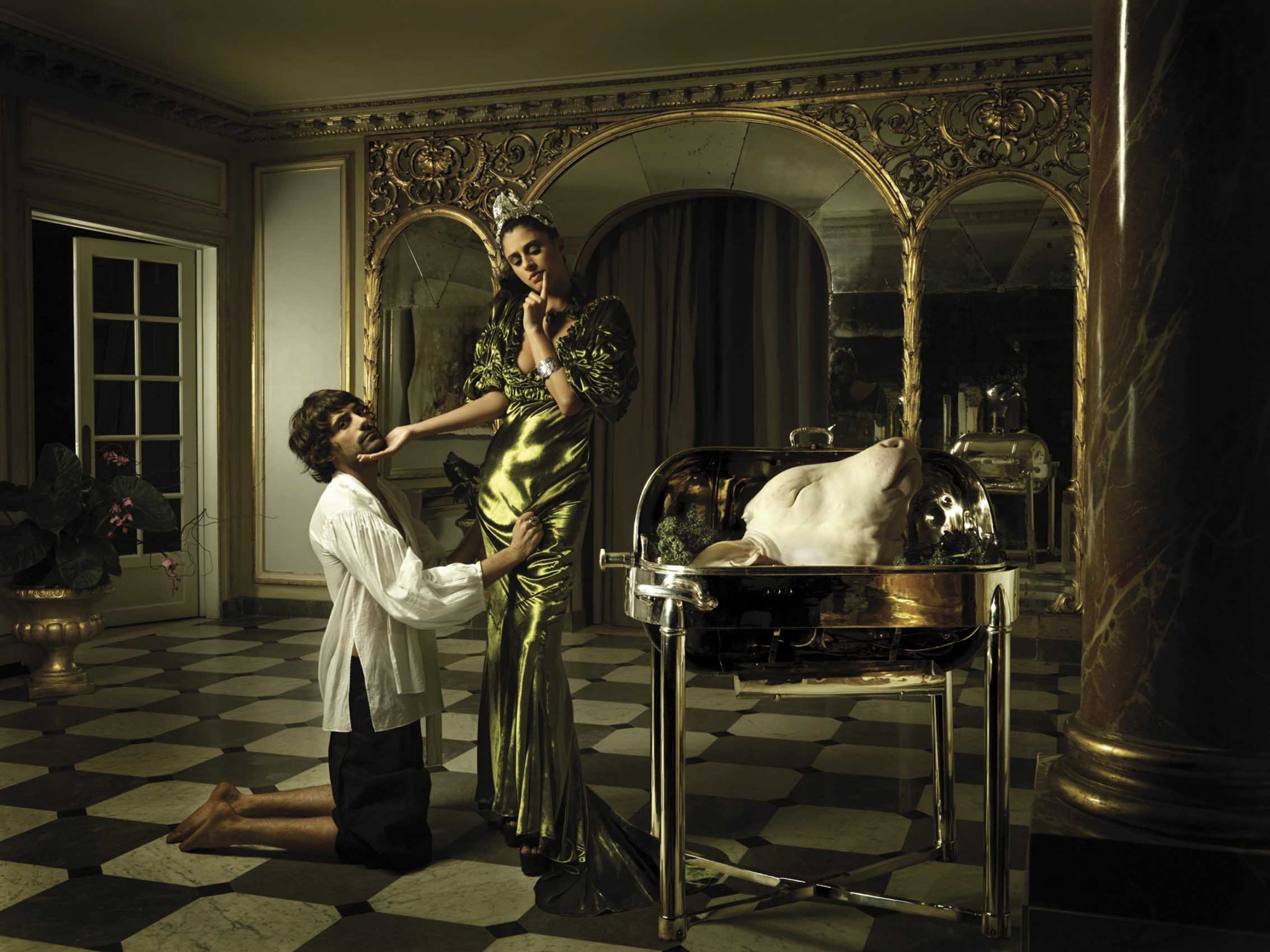 SALOMÉ/VITELLO ALLA CARAVAGGIO: SALOME HESITATES BETWEEN THE HEAD OF JOHN THE BAPTIST AND THE CALF'S HEAD.FOR ONCE THE SENTENCE IS FAVORABLE TO JOHN THE BAPTIST.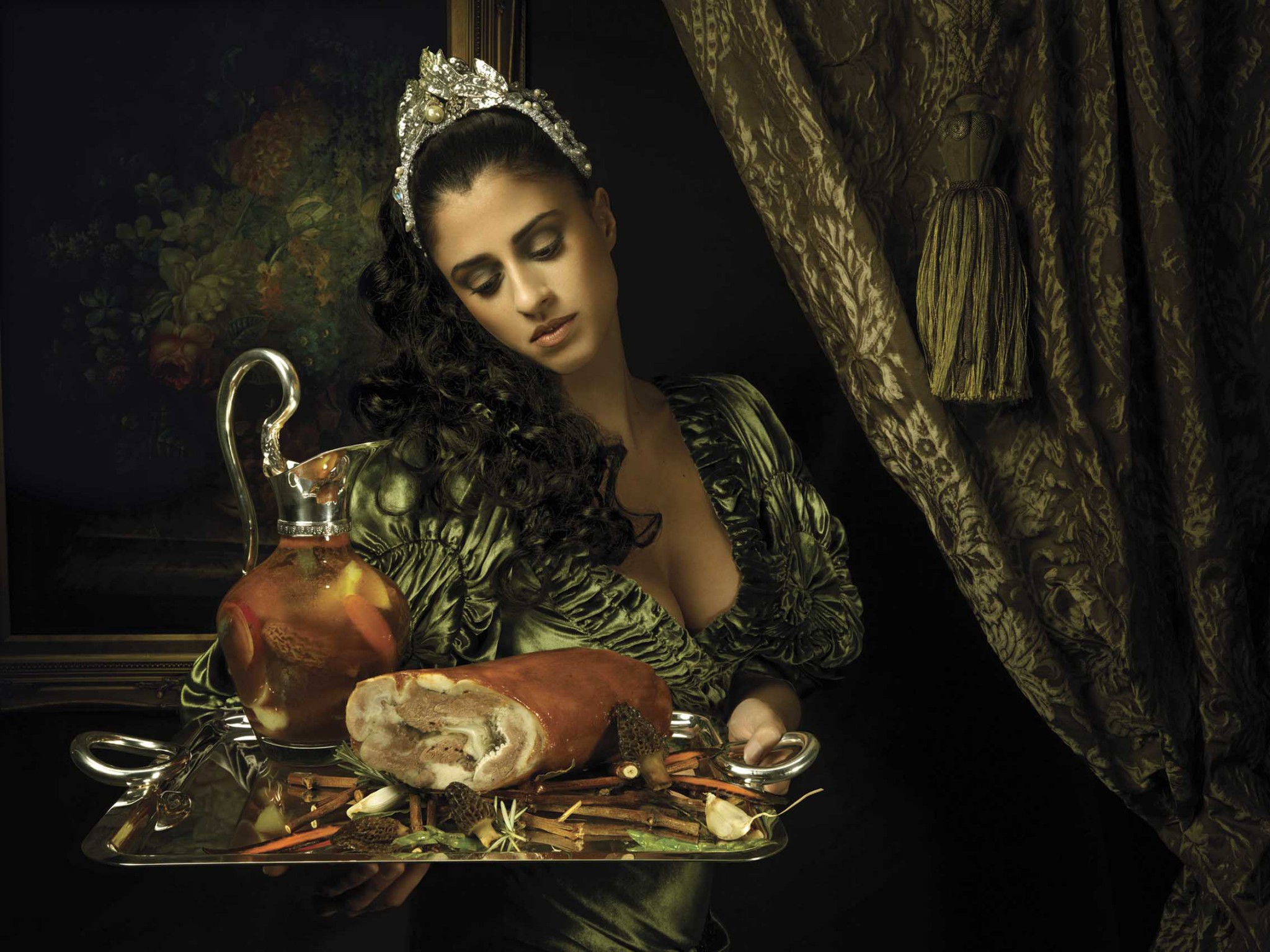 Salomé / Vitello Alla Caravaggio : Salomé hésite entre la tête de Jean-Baptiste et la tête de veau… pour une fois la sentence est en faveur de Jean Baptiste.