- Art & culture -
JR
rocks the world


With the same elation as a mischievous KID that has found a concealed door at the back of the school courtyard, JR opens up windows of joy in the walls of daily life. Since 2004, this Parisian photographer has been creating GIANT COLLAGES all over the world and successfully turned art into a joyous form of activism that could make even a brick wall smile.
Eye opening
An underground bystander creator of ties, JR defines himself as "a social animal". His driver is encounters. His aim: exchanges that provoke artfully. His playground is the entire world and urban areas in particular. His favorite material: humanity, no less. JR does not wish to be seen behind his permanent dark glasses, but instead to enable others to see and above all to think. No explanations, no user manual: JR simply shows what he has to show and leaves every individual the freedom to interpret.
Art beyond walls?
Rather on walls, but not on those belonging to museums. Out of the ordinary, beyond conventions, off the beaten track... Open to others on principle, the artist is obviously a team player: never where one would expect him, he pursues partnerships and spectacular installations infiltrated into real-life locations, from the recent Olympic Games in Rio de Janeiro to the Louvre Pyramid in Paris, from Israel to Kenya, from New Delhi to Los Angeles. With his life-sized portraits, humans look life straight in the eye, in all its diversity. In 2007, Face2Face, produced with artist Marco, illegally installed huge portraits of Palestinians and Israelis face to face in eight cities on both sides. A humor-filled plea to live together. In 2008, the Women are Heroes project made women visible everywhere that they do not have the recognition or respect they deserve.
Inside out
This work in progress involves a large number of projects taking place simultaneously in several parts of the planet, sometimes requiring public involvement. Inside Out, started in 2011, aims to show that art can change the world. Still under way, the project gives everyone the chance to share his image and a message with the rest of the world, thanks to photo booths installed in different cities. Large-format prints are set up in places of art or in cities, but always accessible on the internet. Some 260,000 people have already taken part in the project in 129 countries
Not supposed to be here
At the root of the JR methodology lies the surprise element that plunges the passerby into a state of rapture, emotion or great depths of reflection. One might imagine the artist crouched in the shadows, savoring his craft. An unexpected incursion in the urban landscape, JR superimposes one reality on another. But all the power of this unpredictable time lag stems from his humanity, sweet or tragic, which unfailingly succeeds in touching us. JR's look is a mischievous wink which re-instills trust in humankind.
---
Projet Inside Out
–
www.insideoutproject.net/fr
*Le Figaro TV Interview – September 2014
---
by Anne-Marie Clerc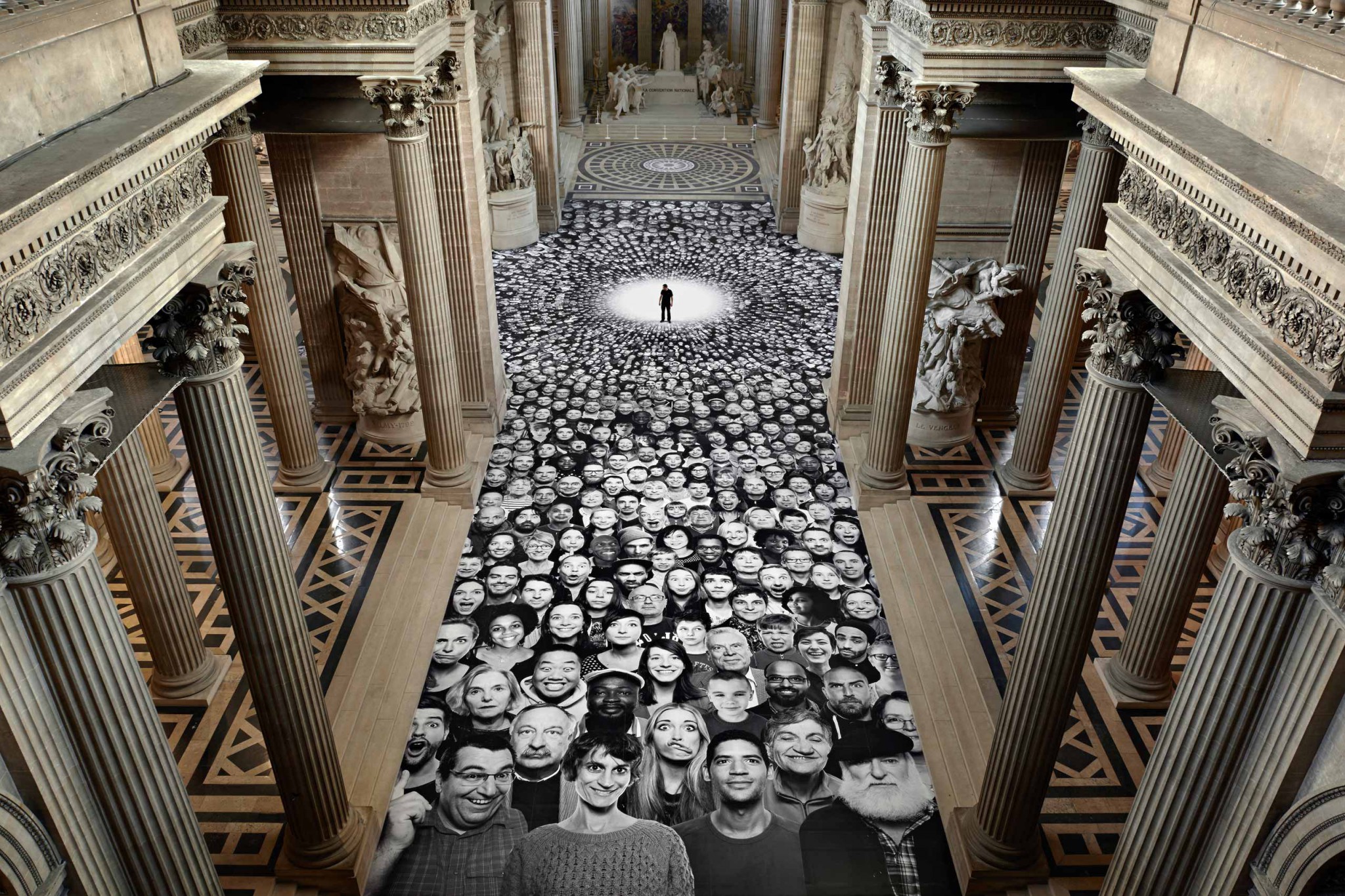 Inside Out Project "Au Panthéon !"
Paris 2014 © JR-art.net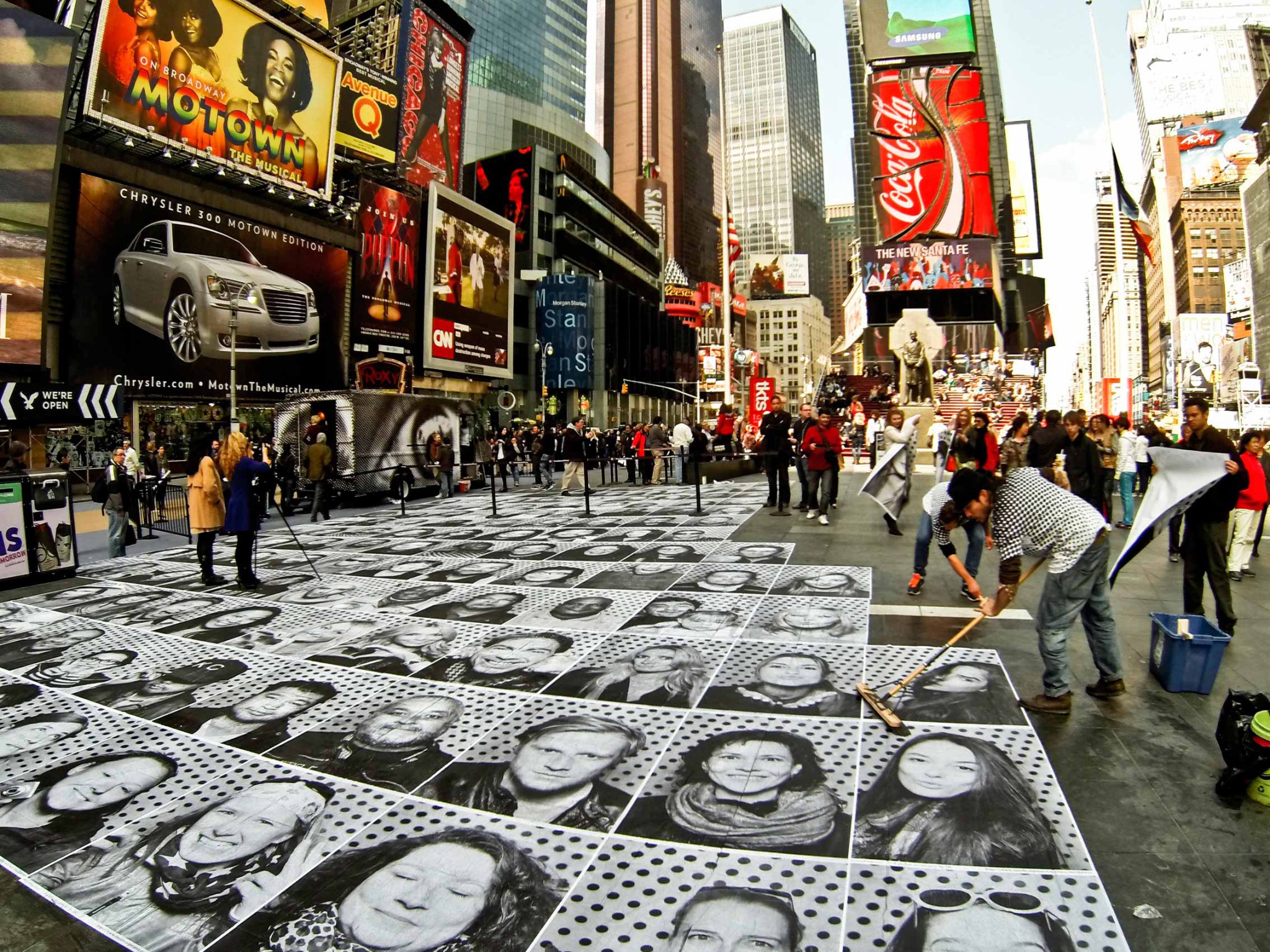 Inside Out Project New York City 2013.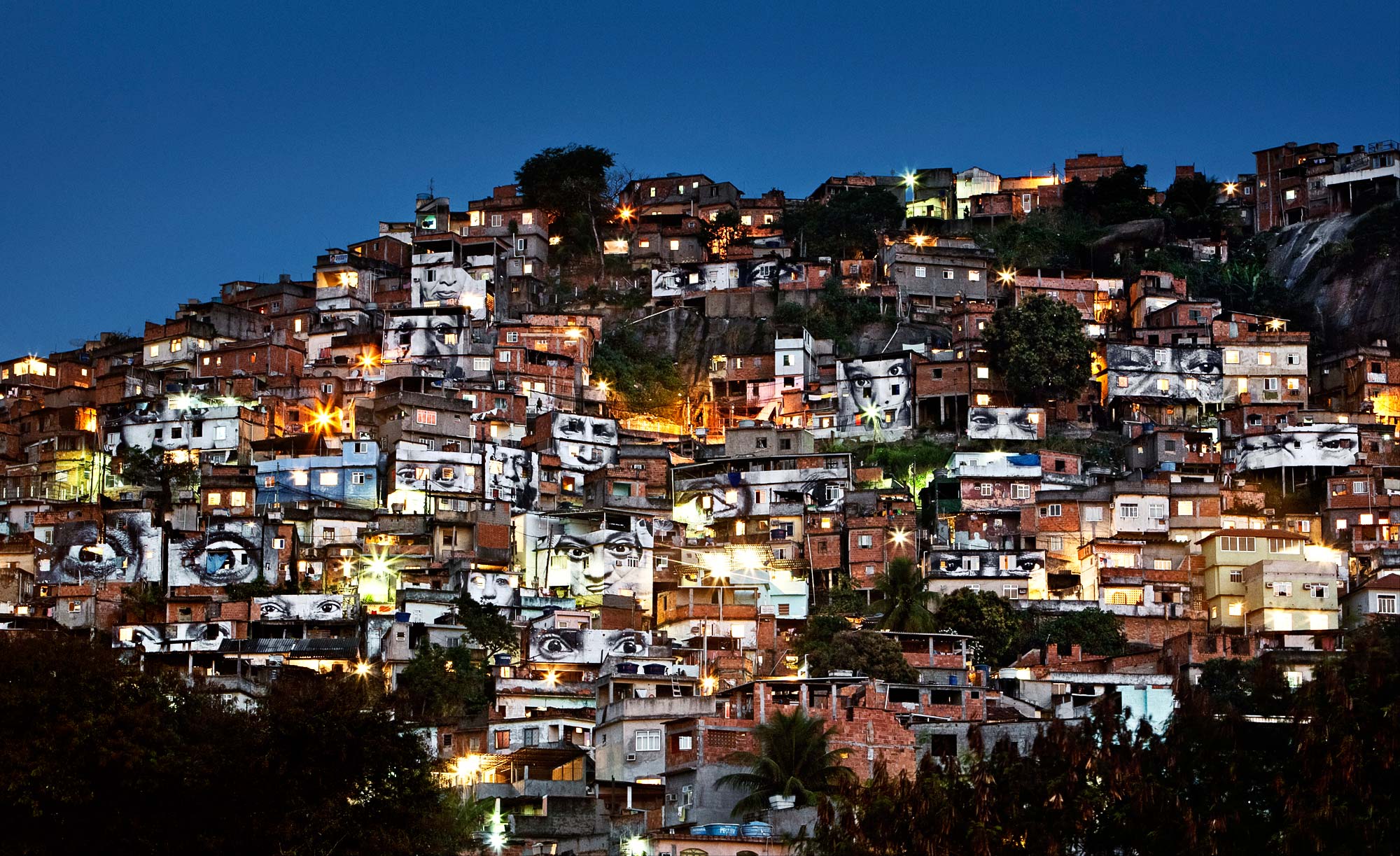 28 Millimètres, Women are Heroes Rio de Janeiro, Brésil 2008
© JR-art.net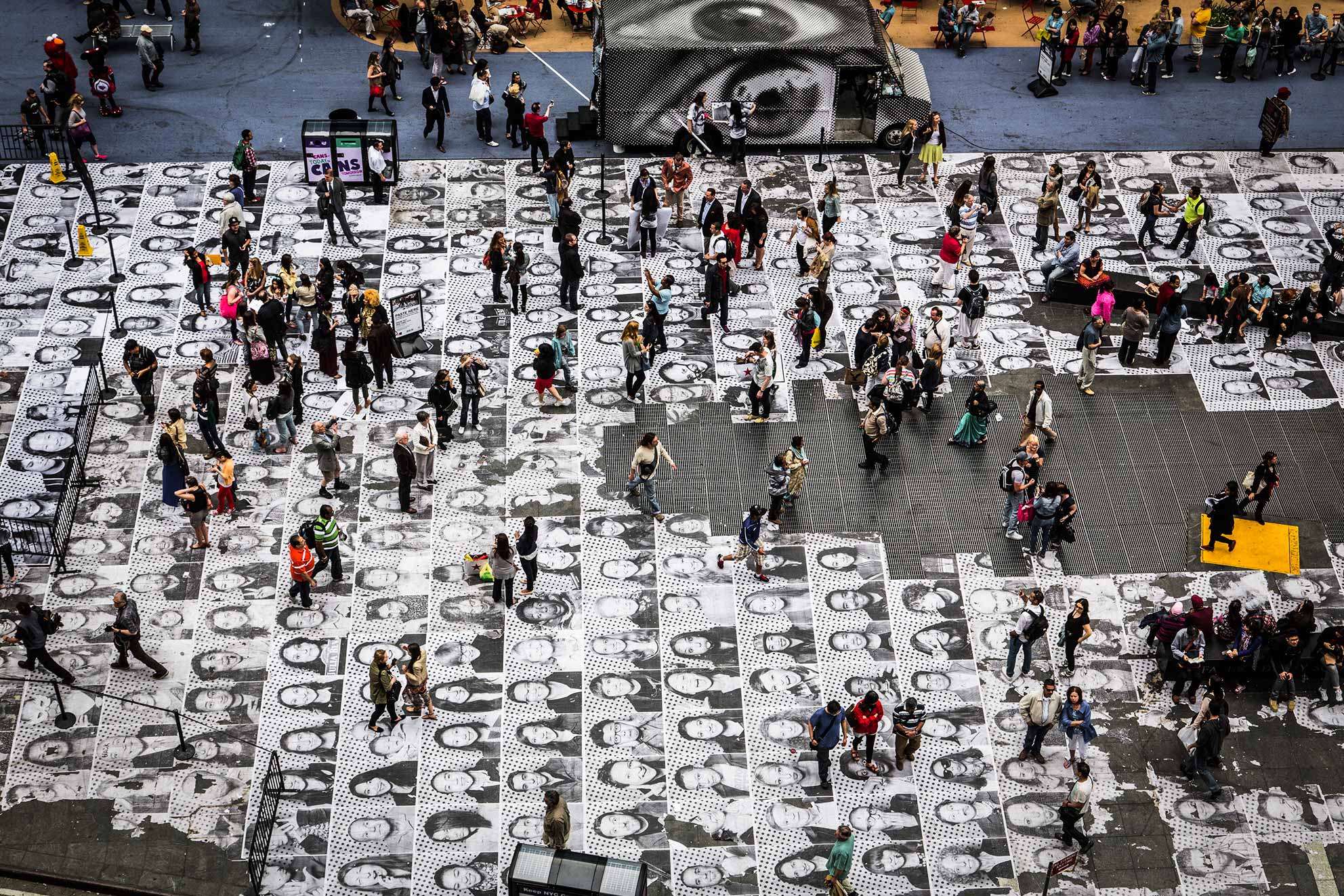 Inside Out Project New York City 2013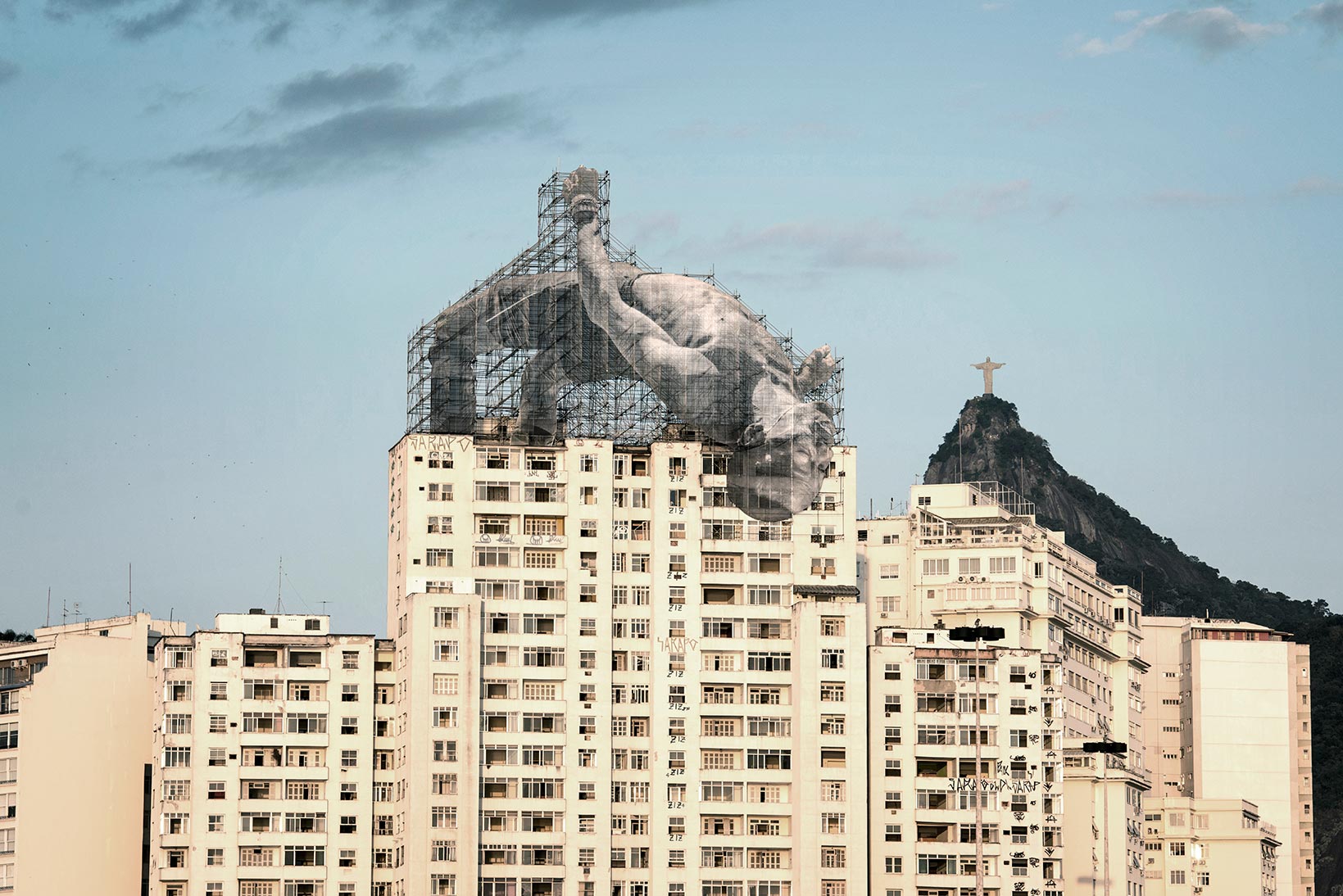 Les Géants de JR à Rio de Janeiro, pour les Jeux Olympiques Brésil 2016
© JR-art.net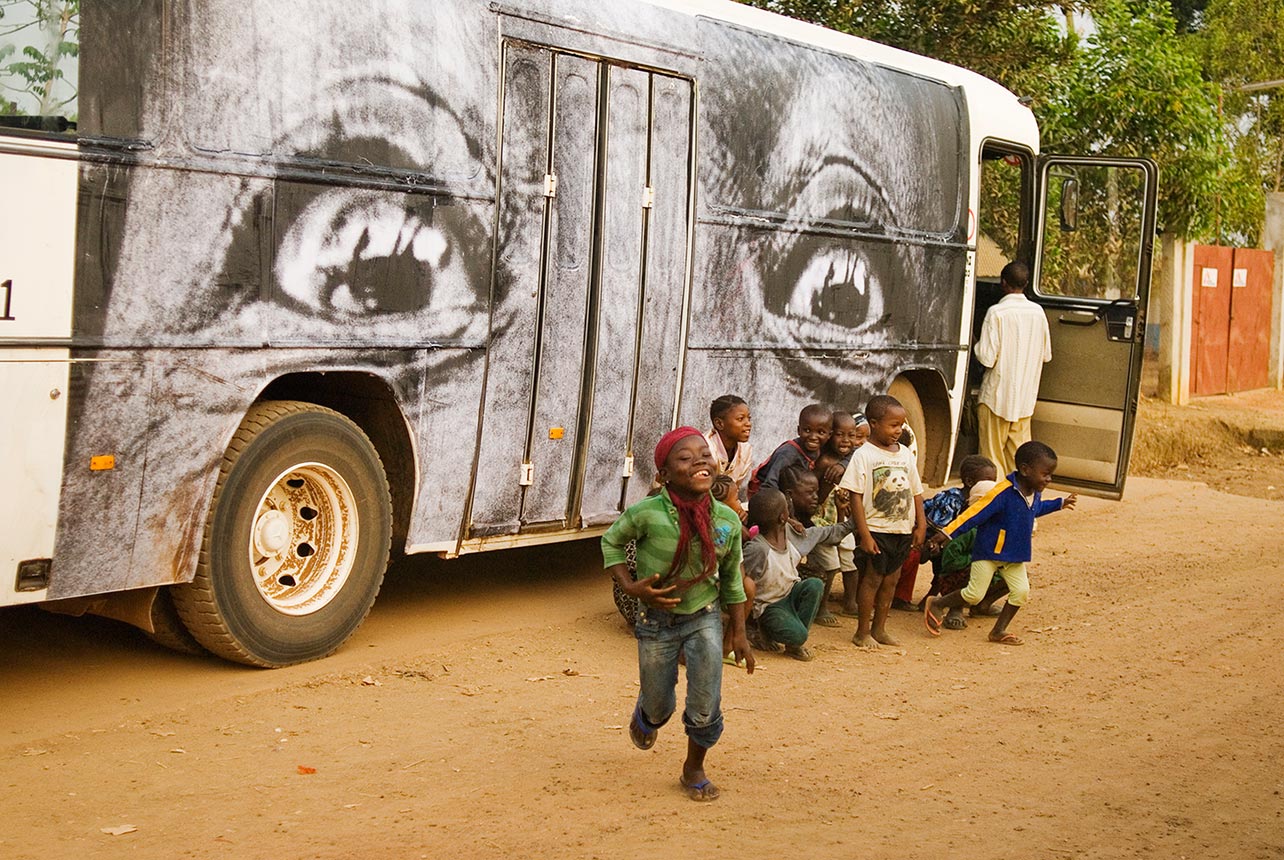 28 Millimètres, Women are Heroes Bô City, Sierra Leone, 2008
© JR-art.net