- Interview -
Jean-Claude Bivert

Daring? Did you say daring?

Can Jean-Claude Biver be described as a visionary? Undoubtedly and much more besides, because if one can safely state that a person has influenced the course of Swiss HAUTE HORLOGERIE, there can be little doubt that daring has played a big part therein… But what are the views of the person in question on this point?
What is your definition of daring?
Daring is about having the courage to make a mistake and not being afraid of failure. When one dares, one is aware that one may fail, so daring is braving all of that and showing that one has what it takes!
What is the most daring thing you have done outside the parameters of your career?
In the 1968 era, when I was not yet 20, I was obsessed with freedom and a degree of rebelliousness. I quit my studies and moved into a commune. To earn my living, I unloaded mail trains at night at Lausanne station, to the chagrin of my parents who had a different future in mind for me. Then one day I displayed a degree of daring in the other direction by going back to my studies and demonstrating that one could have long hair and flowery shirts and still succeed, which is what I did!
What is the most daring thing that you have undertaken in the watchmaking world?
The most recent! At a time when I could have retired with a sense of pride in what I had accomplished, I put everything back in play by accepting the position as head of the watch division of the LVMH group in 2014. It is common knowledge that one's most recent activity is the one that counts the most. If I don't succeed, all my previous achievements will be forgotten. Although things are going well at the moment, I haven't finished yet and I still have work to do. Some people think that buying Blancpain for €18,000 in 1982 was more daring, but it wasn't at all at that point, when I had my whole life ahead of me to start again if I failed. Things are not the same at all in this case, with a 42-year career behind me!
Who is the most daring of all men in your opinion?
Bernard Arnault, my boss, who has progressively built the world's largest luxury group, LVMH. Thirty years ago, he had the courage to believe in wine, in champagne when its image was nothing like it is today. He is synonymous with French-style luxury and to achieve what he did required a huge amount of daring!
What other daring things remain for you to do?
Dying! But dying at peace, with the certainty that I have done my duty. Dying in the knowledge that I have given back all that I have received: love, experiences, learning and success.
Based on an interview by Valérie Blanc
Bio express
Jean-Claude Biver comes from Luxembourg. He has lived in Switzerland since the age of ten and is a highly qualified business school graduate who started his career in marketing and sales at Audemars Piguet, subsequently moving on to Omega. An avid fan of the world of watchmaking, he acquired his first company in 1982 in the shape of Blancpain, which had been dormant for more than 20 years. Leveraging his professional experience, he awakened the sleeping beauty and developed it until its sale to Swatch Group, which he also joined at the same time, in 1992. Back with Omega, he gave the company a new lease on life spurred by a wealth of celebrity endorsements. The result? The brand soared! 2004 found this man who thrives on challenges in the position of CEO of what was then just a "small" watchmaking company called Hublot. He created a "big bang" there with a chronograph of the same name which earned the brand the most prestigious awards along with the recognition that goes with the territory! In 2008, Hublot the "great" was sold to the LVMH group on condition that Jean-Claude Biver remained at the helm. He earned another stripe in 2014 when he was named President of the LVMH group watch division.
Images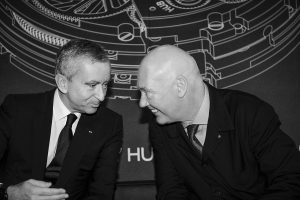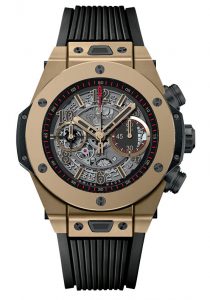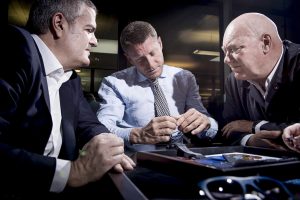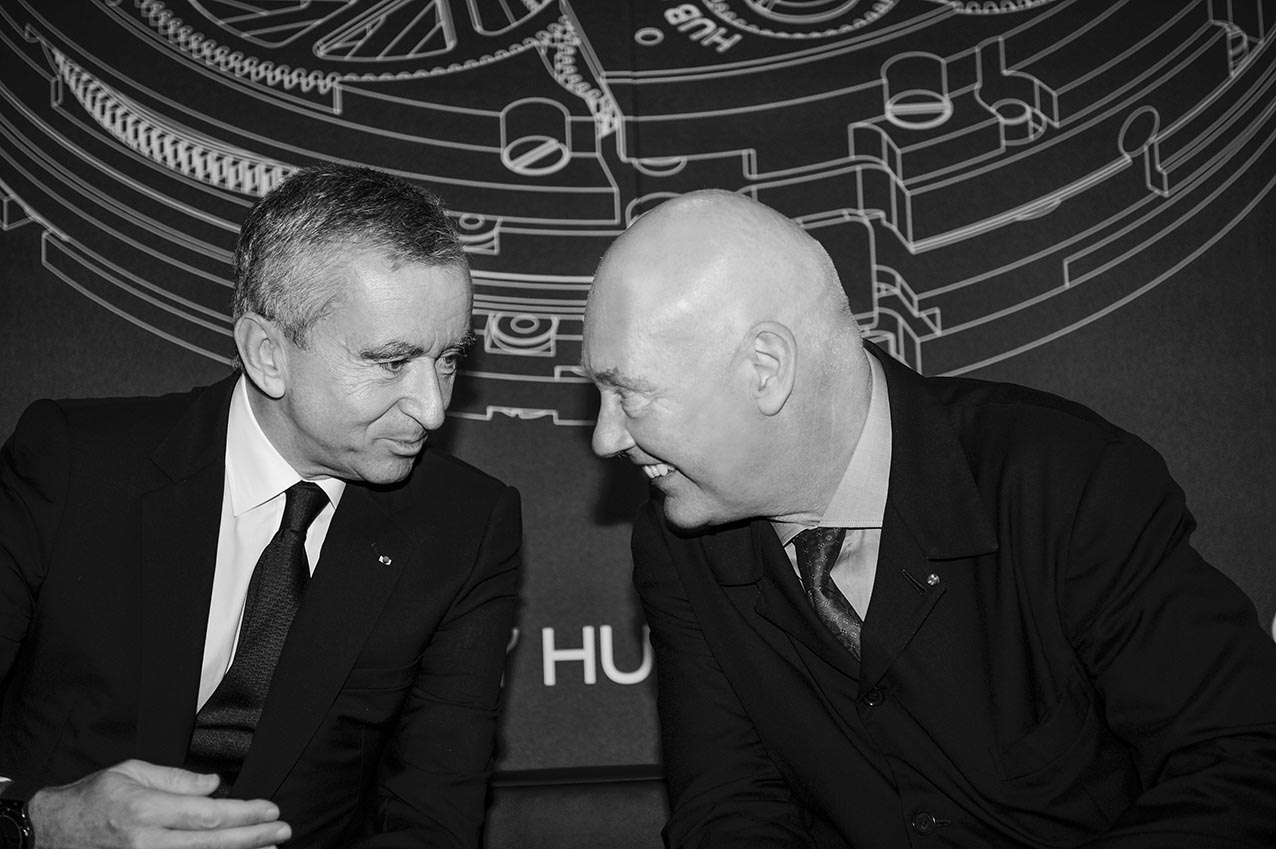 Bernard Arnault et Jean-Claude Biver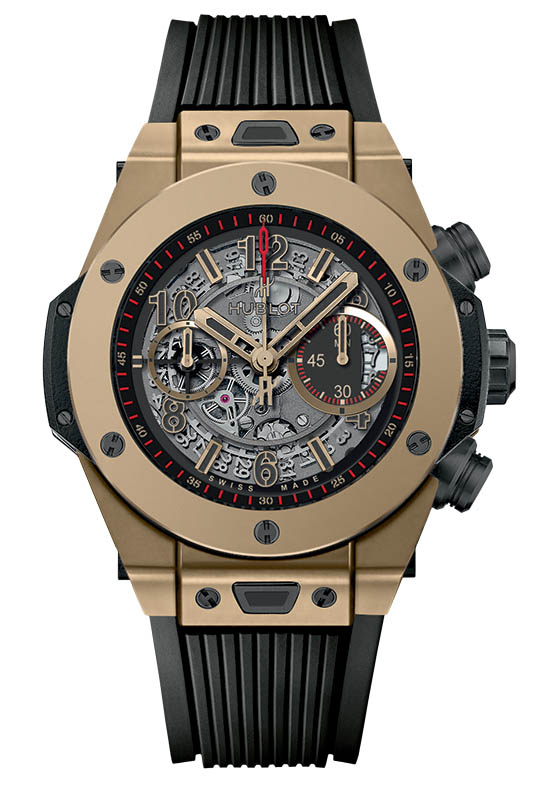 Hublot Big Bang Unico Full Magic Gold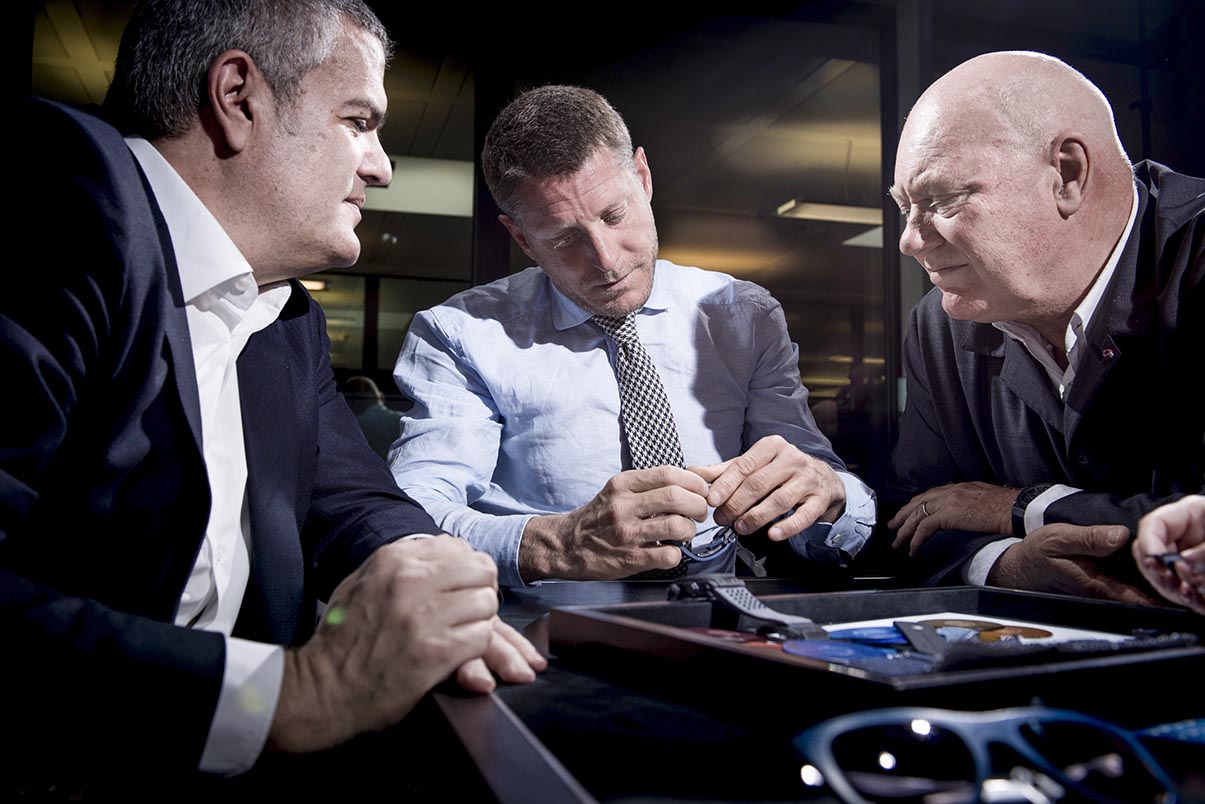 Ricardo Guadalupe - Lapo Elkann - Jean-Claude Biver