Street art,
wall to wall creativity
Now almost 50 years young, street art remains a fertile breeding ground for contemporary creation but is experiencing a veritable teenage crisis… Illegally born and nurtured by clandestine living, urban art is now facing the temptations of fame as it is courted by official artistic institutions. How can it find a way to preserve the unbridled creativity which made it successful? Is there a life for it in the galleries?
THE MOST POPULAR OF "ANTI" MOVEMENTS
Rebellious by nature, street art appeared in large urban metropolises from the 1960s and 70s onwards. It was a freedom-loving means of expression for a new generation to state its opposition and affirm its territory with an infinitely tagged signature. The movement roved freely across themes ranging from messages of political protest relating to the big events of the sixties, through to the conquest of space. It was all about speaking out in order to express one's displeasure, criticize a system, and share one's vision of the world. As always, a picture paints a thousand words.
ART IN THE CITY
Combined with hip-hop culture, urban art becomes a means of taking back the city. On all continents, the roller and brush warriors bring their touch of poetry to walls despite bans in force. While it all started with the subway trains of New York that were covered in tags and graffiti, techniques swiftly exploded through widely differing styles: from the aerosol can in the beginning to stencils, collage, mosaics, luminous projections right up to yam bombing, which is all about knitted works dressing urban furniture.
THE STREET BELONGS TO ALL
Frequently arrested, sometimes misunderstood by the inhabitants of the "decorated" districts, the great figures of street art have wound up attracting public sympathy and above all catching the attention of the art market which sees in these new artists a real breath of fresh air. They all nurture their individual mythology and adopt a public persona, preferrably with an enigmatic pseudonym: C215, Miss Tic, Blek le Rat, Zevs, Os Gêmeos, Psychosis… These elusive and mischievous urban 'phantoms' perform colorful sleights of hand that turn them into mysterious new heroes, whose creations are performances designed to thumb their nose at authorities.
POPULAR SUPPORT
Just as Basquiat and Keith Haring had done before them, they use the street like an open-air book, transforming each new work into a happening. And the public follows, watching out for a new Banksy here, a new Space Invader mosaic there, and an XXL collage by JR a bit further on. Formerly dissidents with a rebellious spirit, urban artists are becoming veritable stars with a trademark style that we recognize and from whom we eagerly await the next bit of daring. The rendezvous Banksy set with his fans in New York last winter was a major event, even though no-one yet knew what the artist looked like. Offbeat by nature, street art embodies a popular initiative, an alternative to classical contemporary art, which is often perceived as being too elitist and conceptual.
VIOLATING THE RULES OF OFFICIAL RECOGNITION
The price of success? Now increasingly well integrated into the urban area, street artists are being offered spaces to express themselves by municipalities, receiving commissions for specific works and even making their way into museums! This represents a real revolution for ex-revolutionaries who are now entitled to dedicated exhibitions and included in auctions. And a paradox that is hard to handle when creativity is fuelled by transgression and its accompanying adrenalin rushes… Meanwhile, the temples of street art – such as 5 Pointz in New York, Tacheles in Berlin or the Molitor swimming pool in Paris – are gradually vanishing due to the combined effects of real estate speculation and the normalization of an art formerly deemed a little a bit too uncontrollable.
Still a very young art form, street art is undergoing a change and what happens next in the evolution that is taking place across the planet promises to be interesting. If artistic institutions have created a real place for street art and are giving it the means to continue, so much the better, but one thing is certain : like its past, its future is in the street.
OFF-THE-WALL STREET ART?
The opinion of Nicolas Couturieux, artistic director of the Atelier des Bains, a specialist gallery in Geneva.
What if bringing contemporary urban art into galleries and museums turned out to be like putting wild animals in cages and destroying their creative instinct?
Your question refers to the 1907 show which saw the consecration of fauvism as a major artistic movement, which had been created on the fringes of the ageing academism. Clearly, urban art was born of and is fed by its desire to shatter the most deeply ingrained traditions of 'institutional art'. Moving on from there to consider that exhibiting urban artists equates with imprisoning them in cages, implies negating the role of the gallery owners, custodians and curators, who support their creation. This role is not confined to that of mere economic stakeholders; it is also about caring for and supporting the artists in whom we believe, as well as a helping to educate the public that we welcome to our spaces. Finally, the very identity of these artists must not be negated. It is not because their art comes from and lives in the street that it is not carefully considered and thought through.
Can street art envisage a future "inside" the system? (municipalities, galleries, museums…)
One cannot forever continue believing that street art is different from the other artistic movements because it is urban, and thus implying that it can only blossom through conflict with authorities. On the contrary, the basic tenets of urban art were to create social links with the populations in deprived places. Today, it is developing through its cooperation and joint projects with the municipalities: when big walls are painted by street artists, thanks to municipal authorizations, and special housing agencies, the population benefits from it on a daily basis. Street art brings art to places where there is none, in urban landscapes which are often far removed from museums and art centers, to often neglected or derelict areas. It is a mistake to view the fact of working with galleries as going against these tenets, because organizing artistic projects in City spaces requires time, organization and money. Street artists have to live. And our work, by exhibiting them in our galleries, is precisely to support them, to help them carry out these projects and to encourage them.
By Anne-Marie Clerc
Images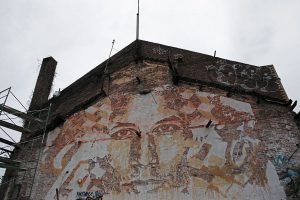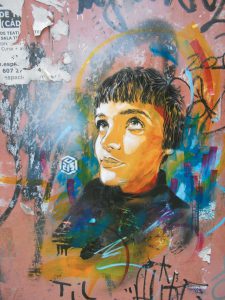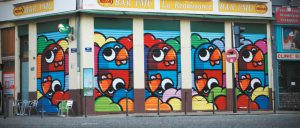 © Vhils Baltimore 2012 by Smart Bastard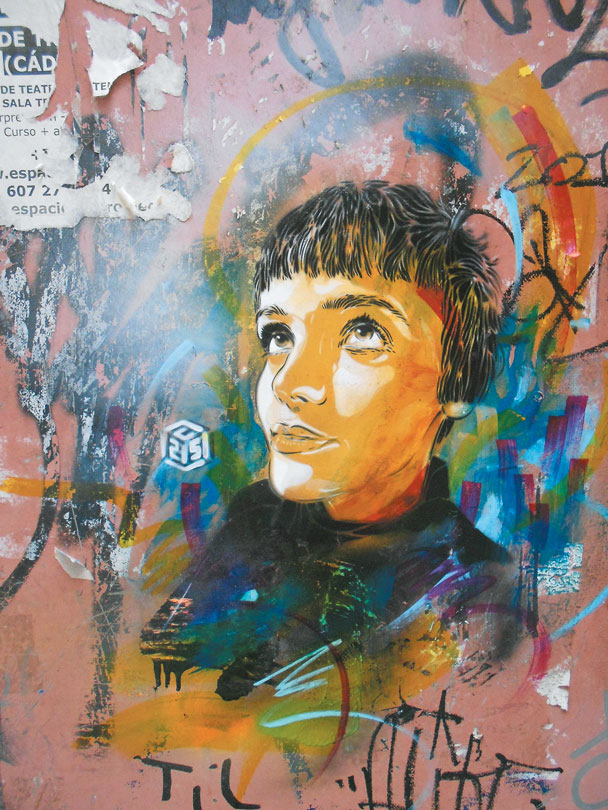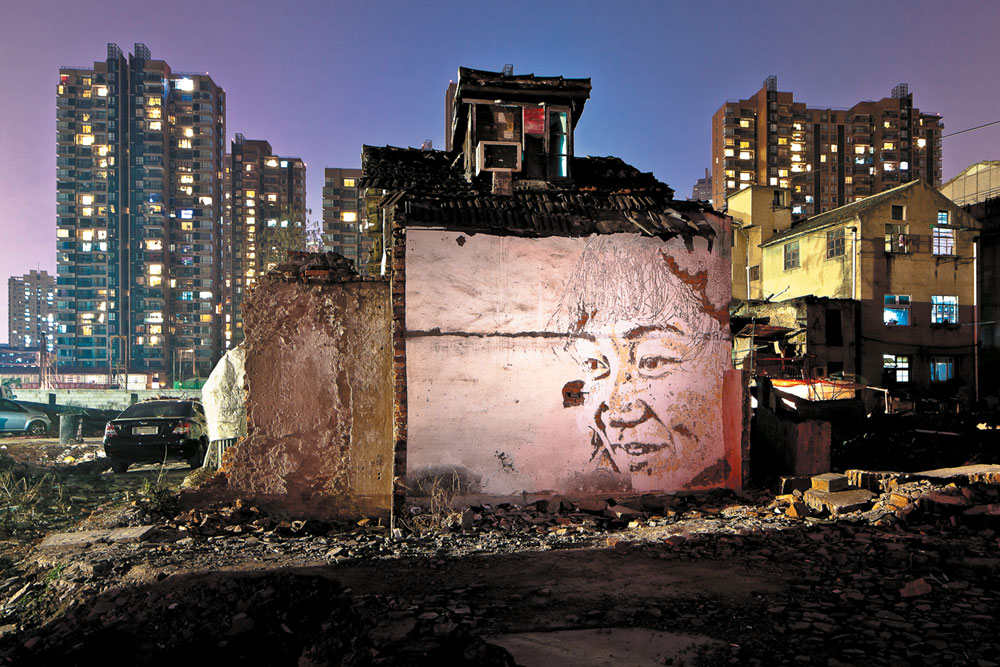 © Vhils Shanghai 2012 by Chen Binle