- Interview -
Pierre Rainero
Meaningful jewelry

Be it on the finger, neck or wrist, the stones we wear reflect the many different aspects of our personality. JEWELRY can have different meanings. In order to create these precious objects, careful design work is required before starting the manufacturing process. We interviewed Pierre Rainero, director of image, heritage and style at Cartier Haute Joaillerie, on this subject.
How is the jewelry designed?
Firstly, the various parties working on a project are immersed in the company culture and have permanent access to the archives. It is up to them to develop the style and endow it with a contemporary expression. A theme is proposed in order to begin designing a piece of jewelry. At this stage, one has creative ideas and there is a briefing session on the shapes, lines, volumes and other elements such as the technical aspect. Manufacturing challenges vary according to the object. For example, on the Cactus collection we wanted significant volumes but there was a concern with regard to weight, so this parameter had to be managed. Once finalized, the sketches are presented and are the subject of discussions around whether or not the company's image is being respected or not. That is a priority.
Does the shape, color and size of the jewelry have a particular significance?
Yes, but jewelry is evaluated and decoded according to each individual's own culture as well as their personal and relationship history.
How do you manage to make your creations reflect joy?
Joy is linked to warm colors, to a blend of shades and to volume. An abundant, lavish element is a symbol of joy. There is also the fun side and by that I am referring in particular to elements that are in terms of both the tactile and visual aspects. When a woman caresses and sets into motion the different mobile parts of her ring or bracelet, her movements contribute to the joyous aspect.
Is there joy in every one of the pieces produced?
An item of jewelry is the bearer of the notion of pleasure. It is an extension of our personality, a means of communication and of adorning ourselves. We generally tend to mark important events with a piece of jewelry: the birth of a child, a wedding, a commemoration. These are purchases of a personal nature or gifts that one is offering and this symbolism is linked to a feeling of happiness.
So the item of jewelry selected will vary depending on the event in question?
Not really. It's highly personal. One person may consider a piece of jewelry more appropriate for an event than another. So it isn't systematic and not all jewelry has the same characteristics for everyone. Every individual has a distinct viewpoint
You have been working for Cartier for nearly 30 years. What is the most joyful piece you have seen?
We revisited Indian colors with engraved stones and then there was the Perruque ring, designed with little articulated gold balls. Thanks to its play on light, it is incredibly joyful and more recently, there has been the Cactus collection.
How did you get the idea for the Cactus collection?
We wanted to have our own approach to a floral theme and the main objective was really to offer an original, joyous collection.
Do all the clients that come into one of your boutiques leave in a happy frame of mind?
That's what we'd like! Our job is to bring pleasure and that is our mission.
Are women tending to seek happiness for themselves by increasingly buying on their own?
Aside from princesses and queens who could do this in ancient times, the great development of the century is effectively the purchase of pieces by women for themselves. This change started with privileged individuals but has become a general trend with working women achieving financial independence. We are delighted about this!
Based on an interview by Anouk Julien-Blanco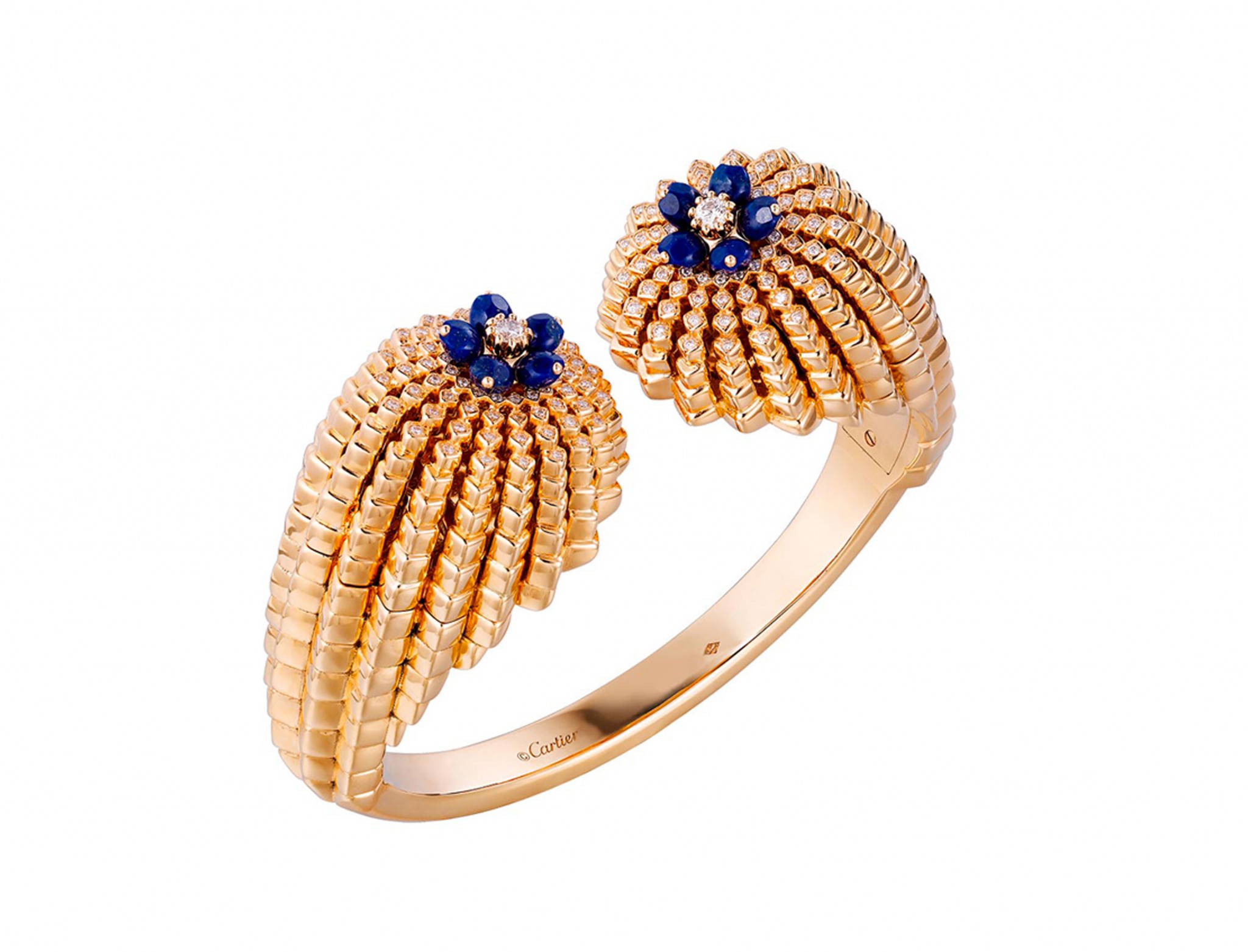 Cactus bracelet, yellow gold, lapis lazuli, set with 146 diamonds.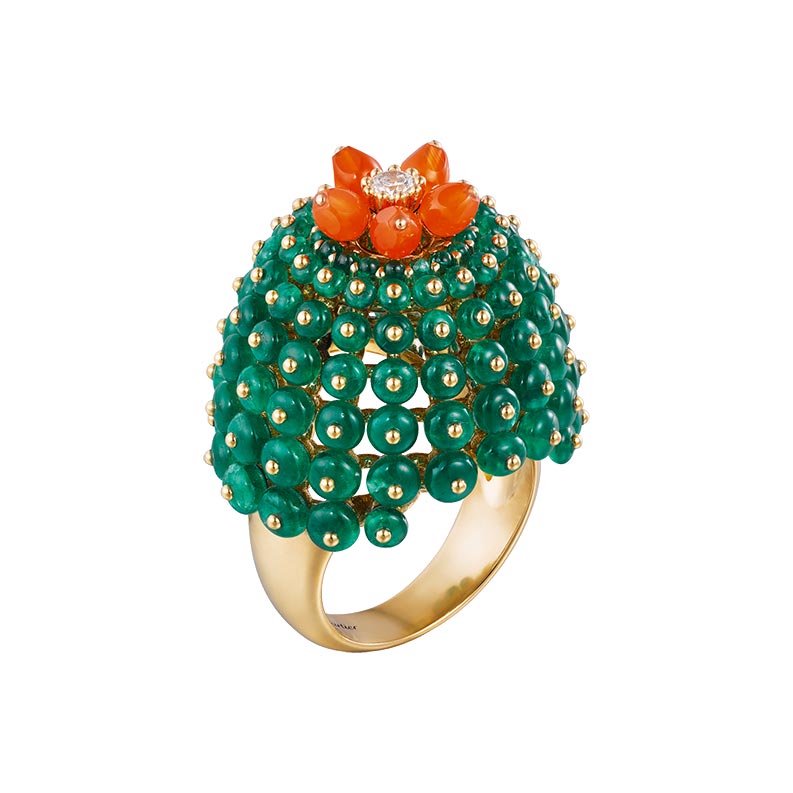 Cactus ring, yellow gold, emeralds, carnelians, set with a diamond.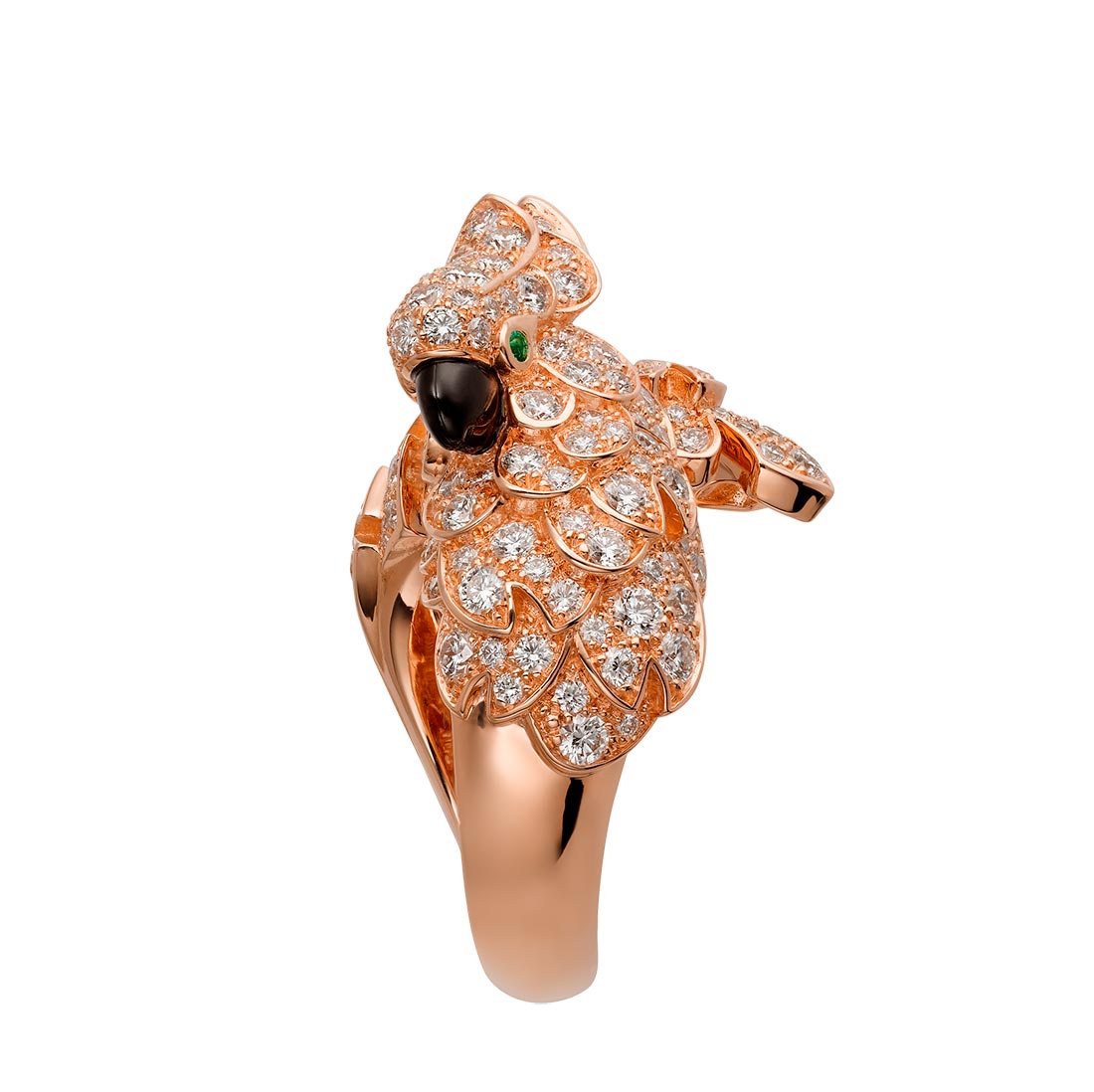 Les Oiseaux Libérés ring, pink gold, emeralds, set with 162 diamonds.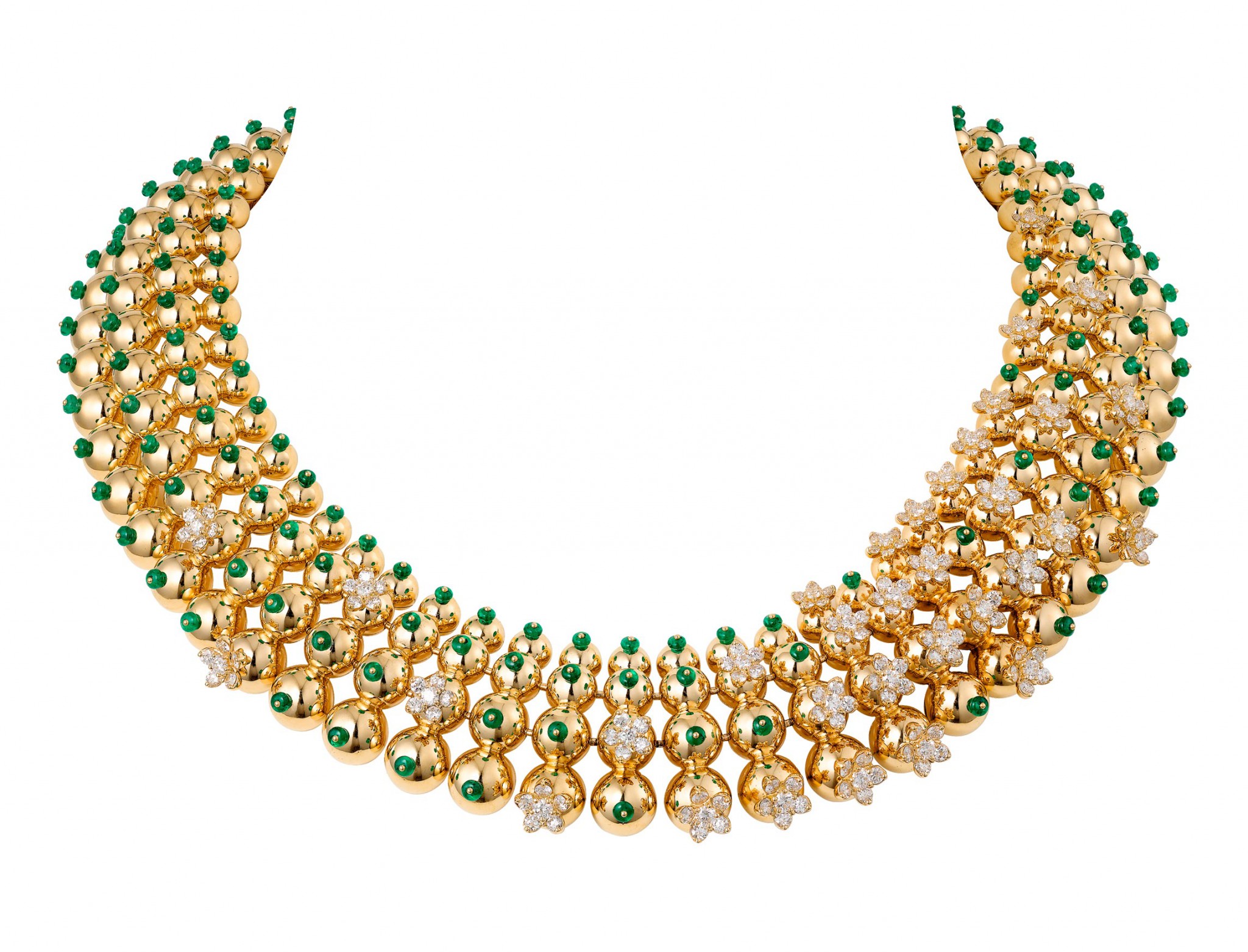 Cactus necklace, yellow gold, emeralds, set with 204 diamonds.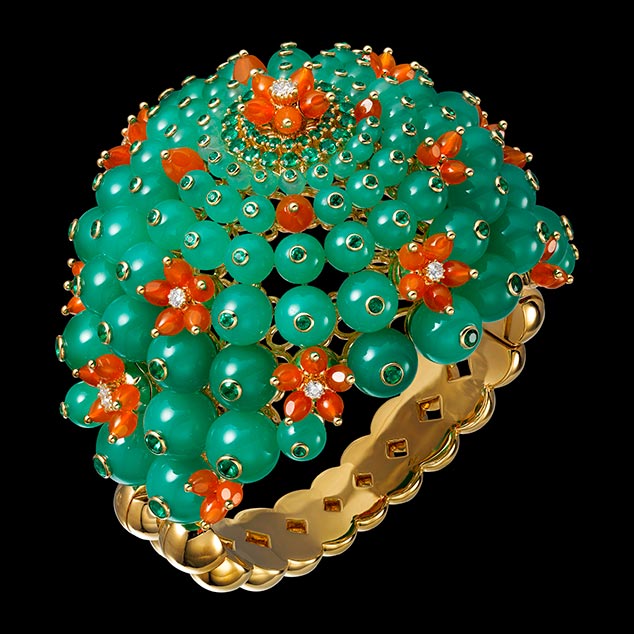 Cactus bracelet, yellow gold, chrysoprases, emeralds, carnelians, set with diamonds.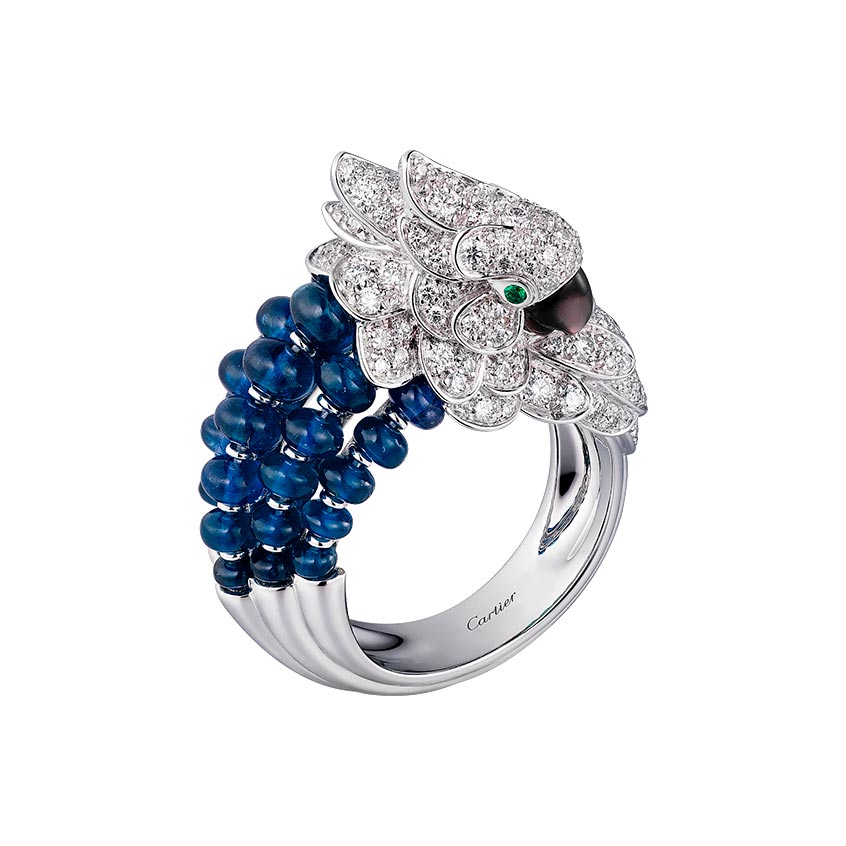 Les Oiseaux Libérés ring, white gold, emeralds, sapphire, set with 147 diamonds.