- Art & Creation -
Color is given
Carte Blanche
By the photographer Alice Pallot
Alice Pallot is a young French photographer who studied in Switzerland (ECAL – Lausanne University of Art and Design) and then at La Cambre (Belgium). She exhibits her work at Le Botanique and LaVallée (Brussels), as well as the Baltar pavilion (Nogent- sur-Marine) and cooperates with designer Mariam Mazmishivili, winner of the LVMH Prize. For La Réserve Paris, she has created a delightfully offbeat series: "I wanted to highlight the noble materials of the hotel in surprising areas", she explains, "including some less-obvious ones, such as stone steps bathed in incredible light. I also wanted to create an intuitive dialog between these places and my model, whose sparkling beauty strikes a dramatic contrast with the traditional "couture" style."
Images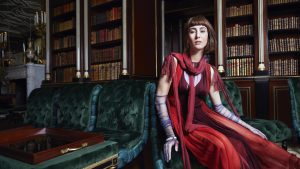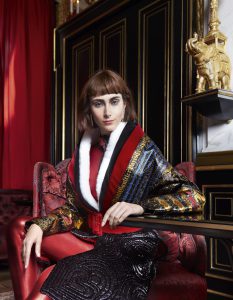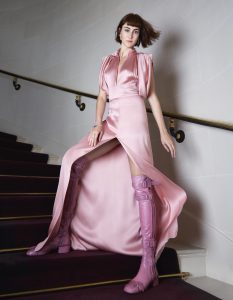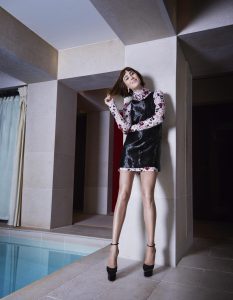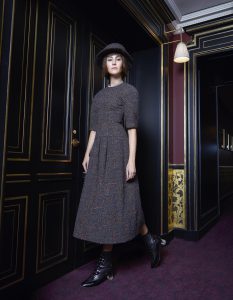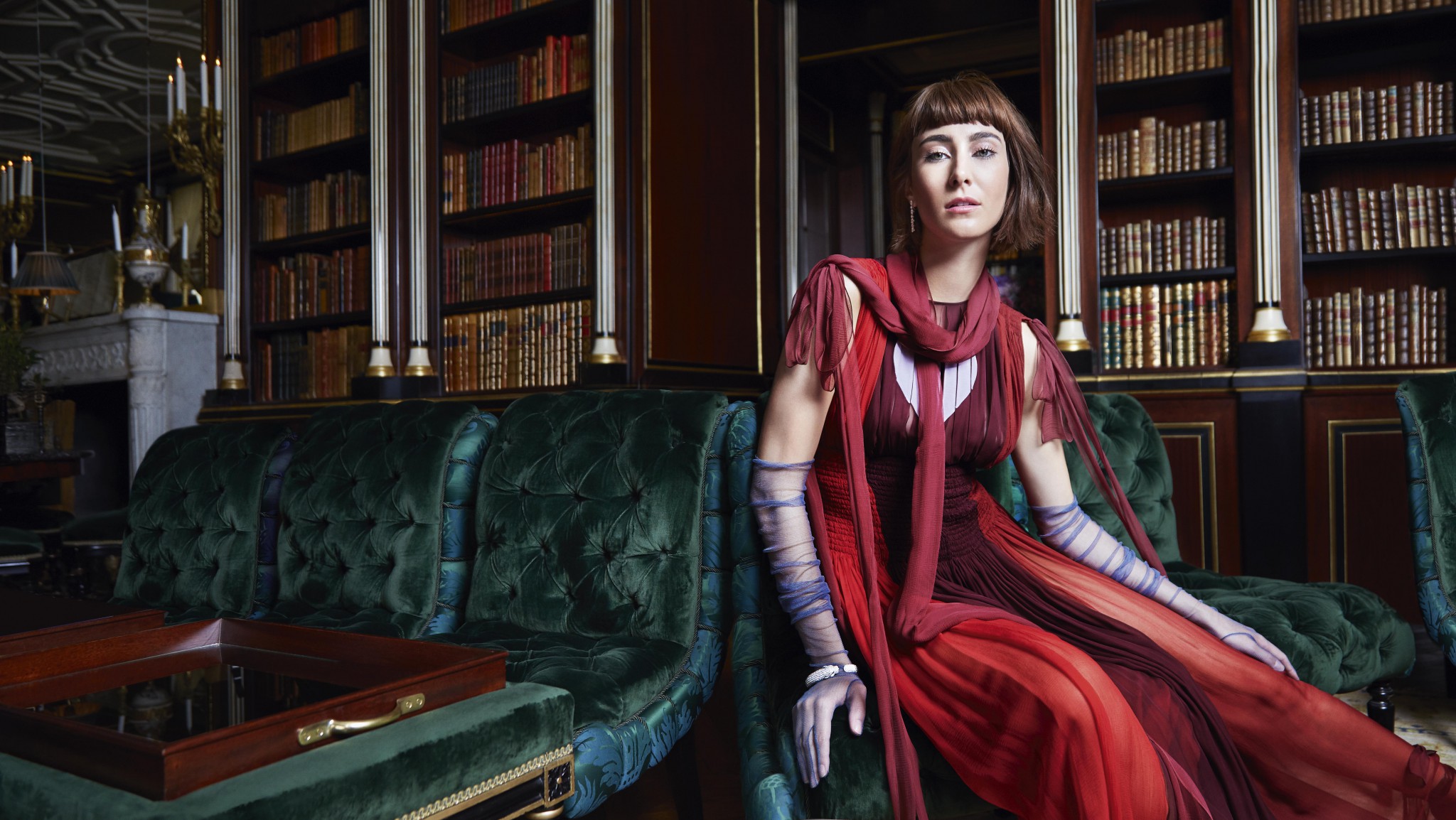 Photography: Alice Pallot
Model: Angeliki – Women Management
Styling: Laurence Alexandre
Makeup: Mickaël Noiselet
Hair: Tié Toyama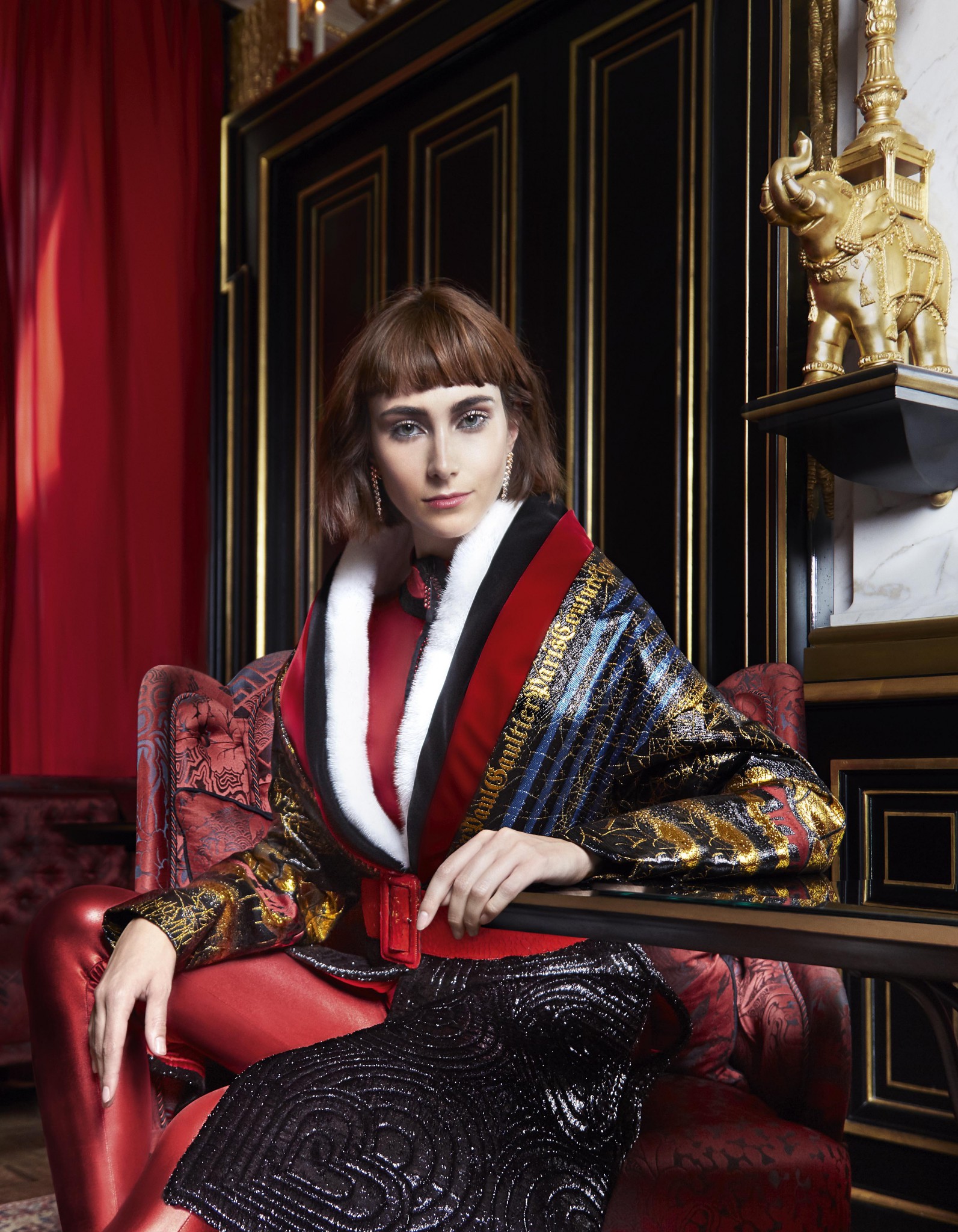 Photography: Alice Pallot
Model: Angeliki – Women Management
Styling: Laurence Alexandre
Makeup: Mickaël Noiselet
Hair: Tié Toyama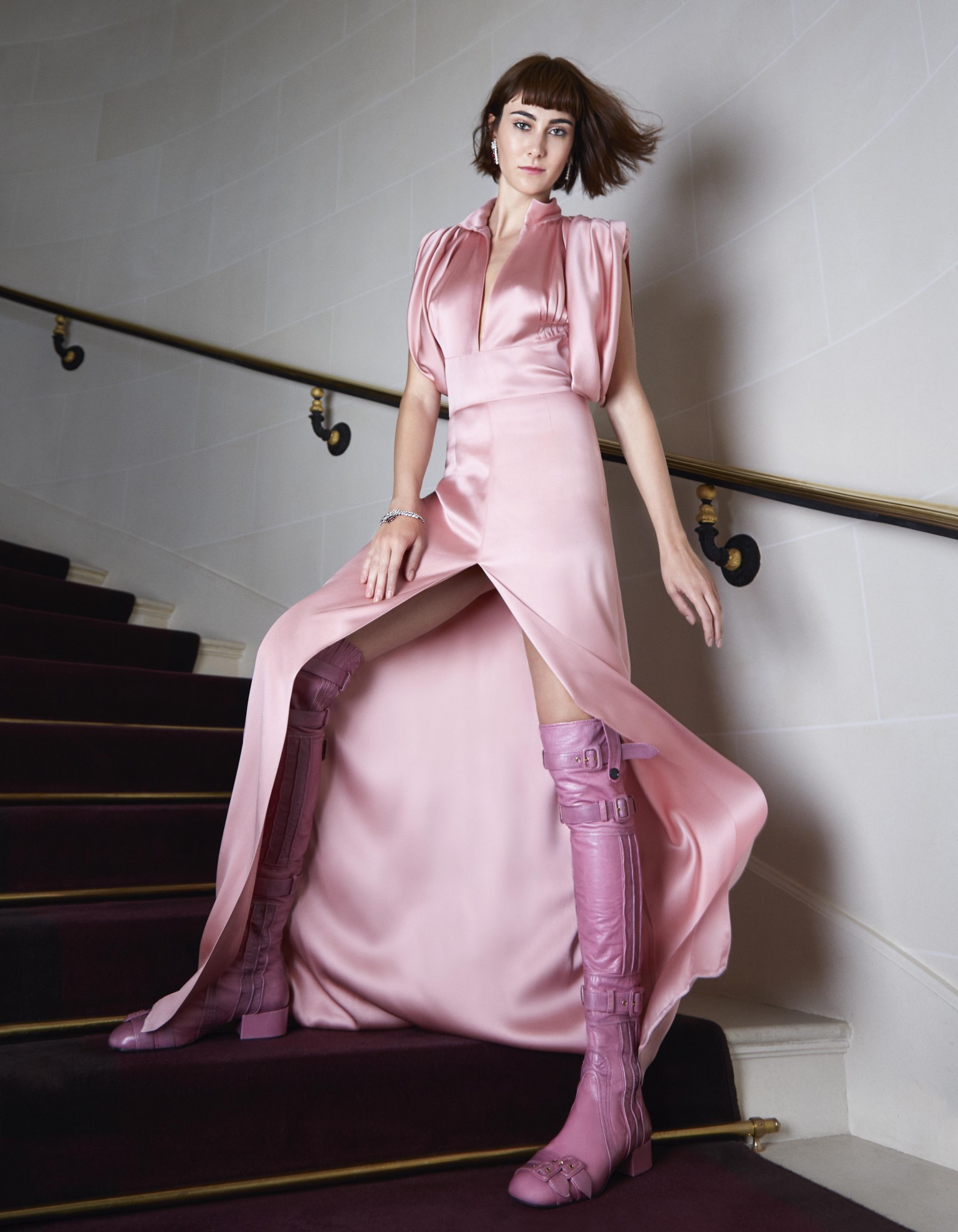 Photography: Alice Pallot
Model: Angeliki – Women Management
Styling: Laurence Alexandre
Makeup: Mickaël Noiselet
Hair: Tié Toyama
PRADA : Satin dress and thigh high leather boots. HARRY WINSTON : Cluster earrings featuring rubies and diamonds set in platinum, from "The Incredibles" collection – matching bracelet.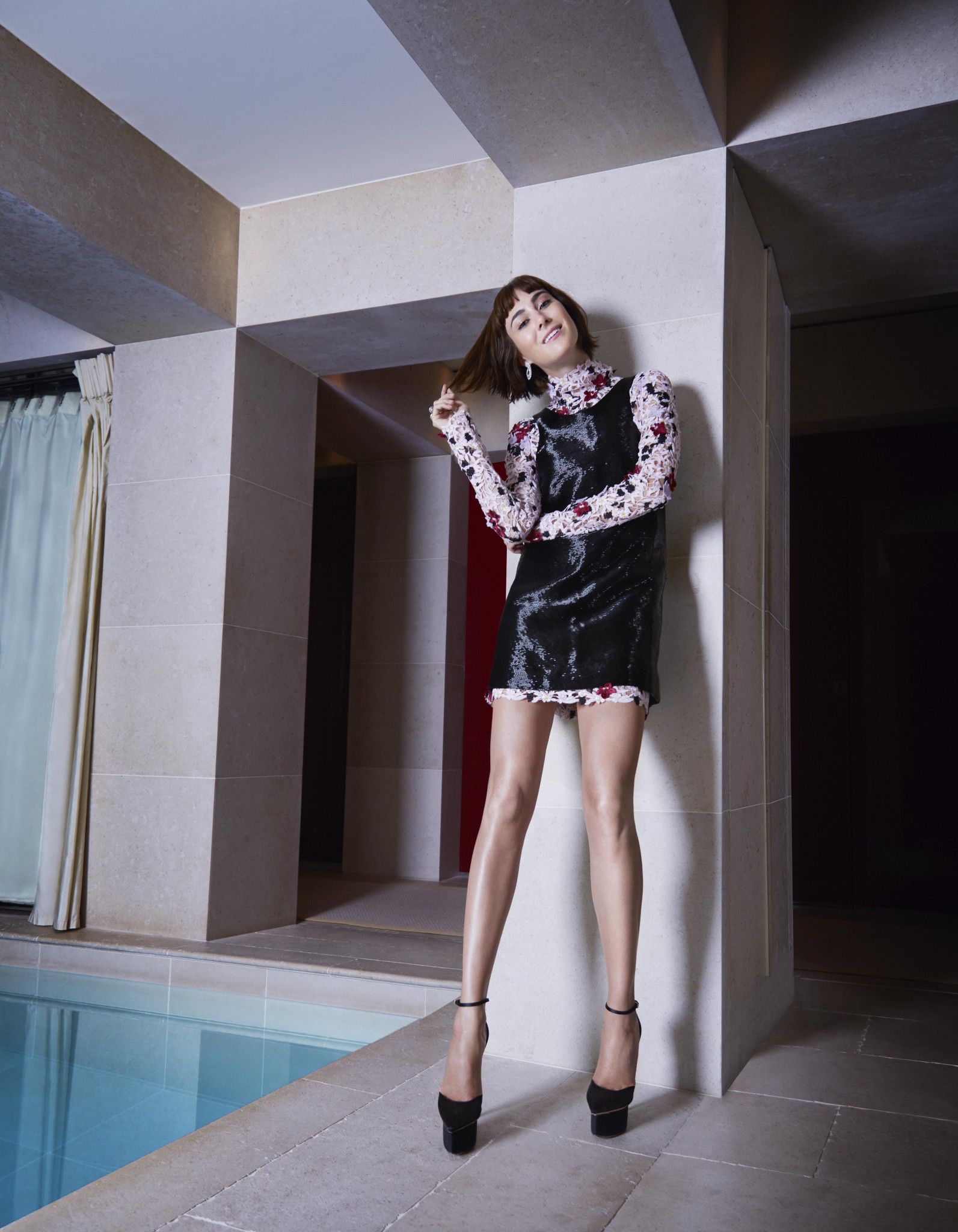 GIAMBATTISTA VALLI COUTURE : Layered cocktail ensemble in macramé fully embroidered "Noir de jais"; velvet calf platform shoes.
CHOPARD : Diamond-set white gold earclips from the "Precious" collection. de GRISOGONO : bague « Allegra » en or blanc serti de diamants. Diamond-set white gold "Allegra" ring.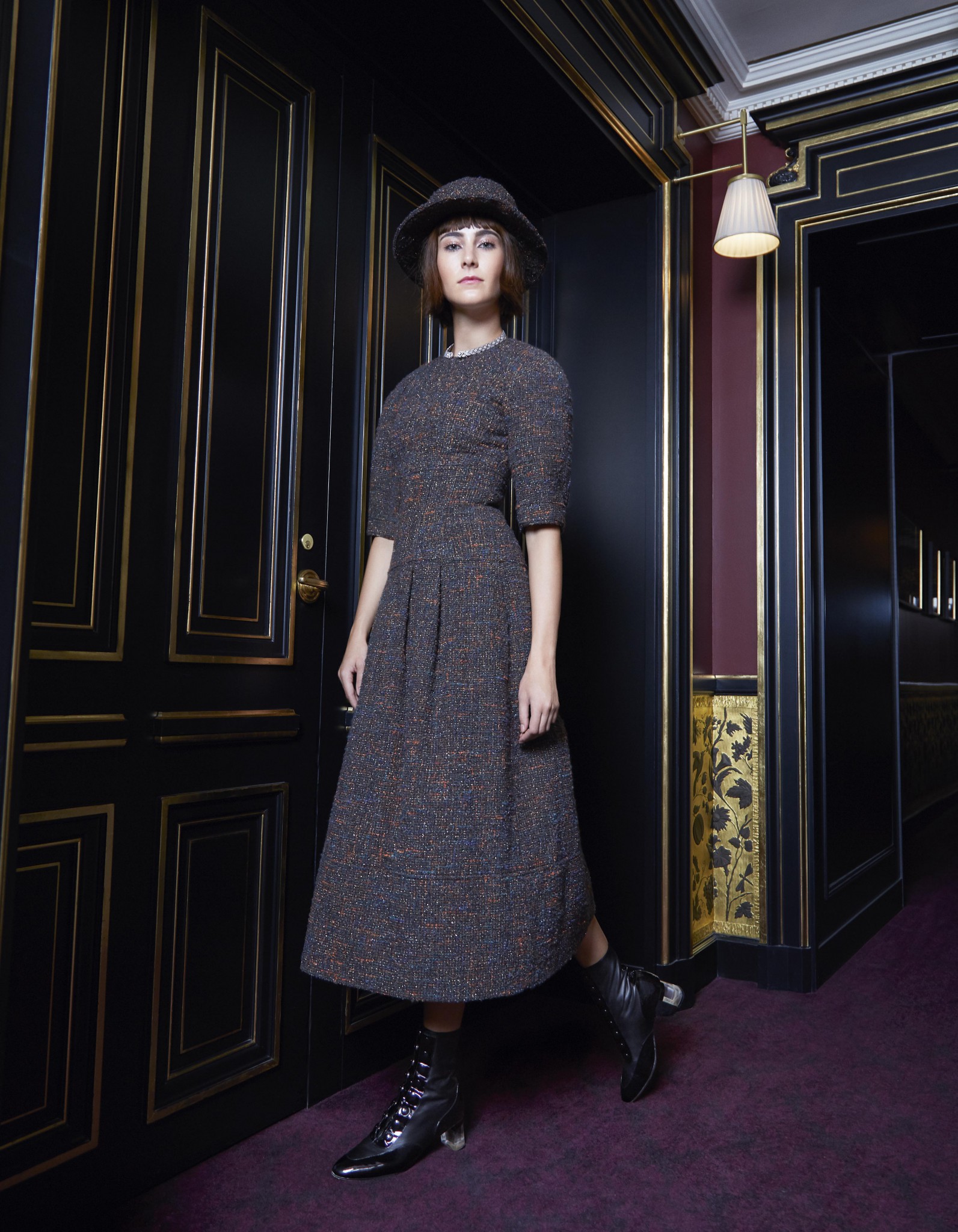 CHANEL : Wool tweed and cashmere dress and hat, leather ankle boots. CHANEL JOAILLERIE : Diamond-set white gold "Signature duo" necklace.