- Fashion -
Yiqing Yin,
originality as a guiding thread
For the past two years, this Beijing-born French designer has been the youngest member of the elite circle of international Haute Couture. A chat with a fashion Artist.
What aspects are woven into your original approach?
Freedom, temerity, boldness and the energy that starts from chaos to be transformed. For me, originality is a constant movement, a journey between one's inner self – that untouched space that must not allow itself to be diverted from its original intentions – and the exterior expression of this intimate world. I love playing with contrasts and oppositions, creating soft architecture, sculpting highly structured things with slippery or otherwise elusive materials, building supple armor like imprints around the body. I am also fascinated by the mutations and metamorphoses one sees in nature and animals. These organic changes of state inspire me to create mysterious, sensual and untamable creatures.
How did you discover your vocation for fashion?
During my decorative arts studies, I took an especially keen interest in sculpture. I even had a prejudice against fashion, which I regarded as a futile discipline. It was the Yohji Yamamoto exhibition that sparked my interest, and subsequently the work of Ann Demeulemeester and Rick Owens. They create identity-defining clothing, the kind you need to put on again from time to time, even when they are well-worn, in order to reconnect with yourself, your history, your memory and your emotions. This spoke to my private story, because I had been uprooted as a child. I have lived in China, Australia and then France. Each time, these changes overturned my points of reference… until I unpacked my clothes. They enabled me to remember who I was, anywhere in the world, faced with the unknown.
You created your Maison de Couture almost straight after graduating, and in 2015 you were named a permanent member of the official Chambre Syndicale de la Couture Parisienne. Did that come as a surprise?
I would never have imagined that I might one day become one of the 14 Maisons in the world to enjoy this privilege, alongside Dior and Chanel. I did not seek it, but I'm infinitely honored by this recognition. I am strongly personally invested in the qualitative, ethical and cultural commitment it represents, as well as feeling a strong sense of responsibility to safeguard and pass on this heritage.
You created the dress worn by Audrey Tautou as Mistress of Ceremonies for the 2013 Cannes Film Festival. What was that like?
It was a magnificent human encounter with a strong, sensitive, authentic and original woman. All the luxury brands wanted
to design a dress for her, but she was bold enough to trust the very young designer I still was at the time. I didn't even have an atelier worthy of the name! This incredible opportunity forced me to be very ambitious in creative terms, since we really had very little time. My team and I almost died of fatigue! The dress was completed behind the scenes in the final seconds just before the ceremony, and was a global hit. 
What are your current plans?
I am restructuring my way of working so as not to be constrained by the time pressures of seasonal fashion shows, but rather to focus on artistic design. It is in this way that I produce the most beautiful things. I want to continue research, crafting things with my own hands, and actually touching materials in order to grasp their many vagaries. For me, Haute Couture is about artistic and sensorial wanderings that call for the luxury of silence, time and breathing – both literally and metaphorically.
Based on an interview by Michèle Wouters
Yiqing Yin is a talent that La Réserve Magazine has been keeping a close eye on, having already dedicated an article in 2011 to this artist who had just won the ANDAM (French National Association for the Development of the Fashion Arts) "First Collections" fashion award and was staging her first appearance at the Paris Haute Couture Fashion week as a guest member of the Chambre Syndicale de la Couture Parisienne.
Images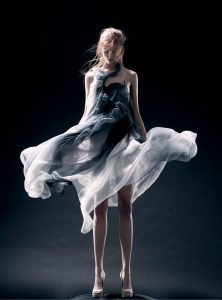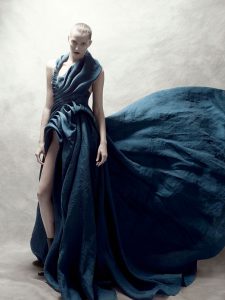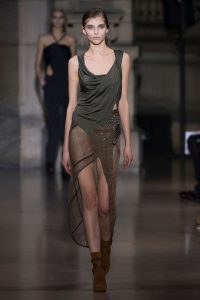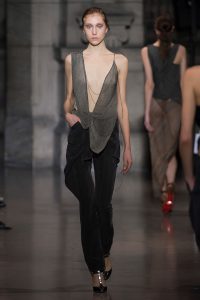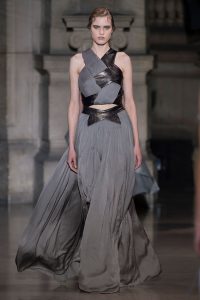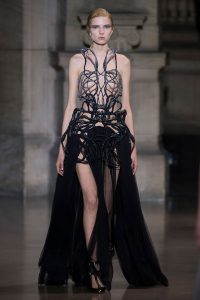 Collection Spring of Nüwa,
modèle Méduse.
© L. Laborie.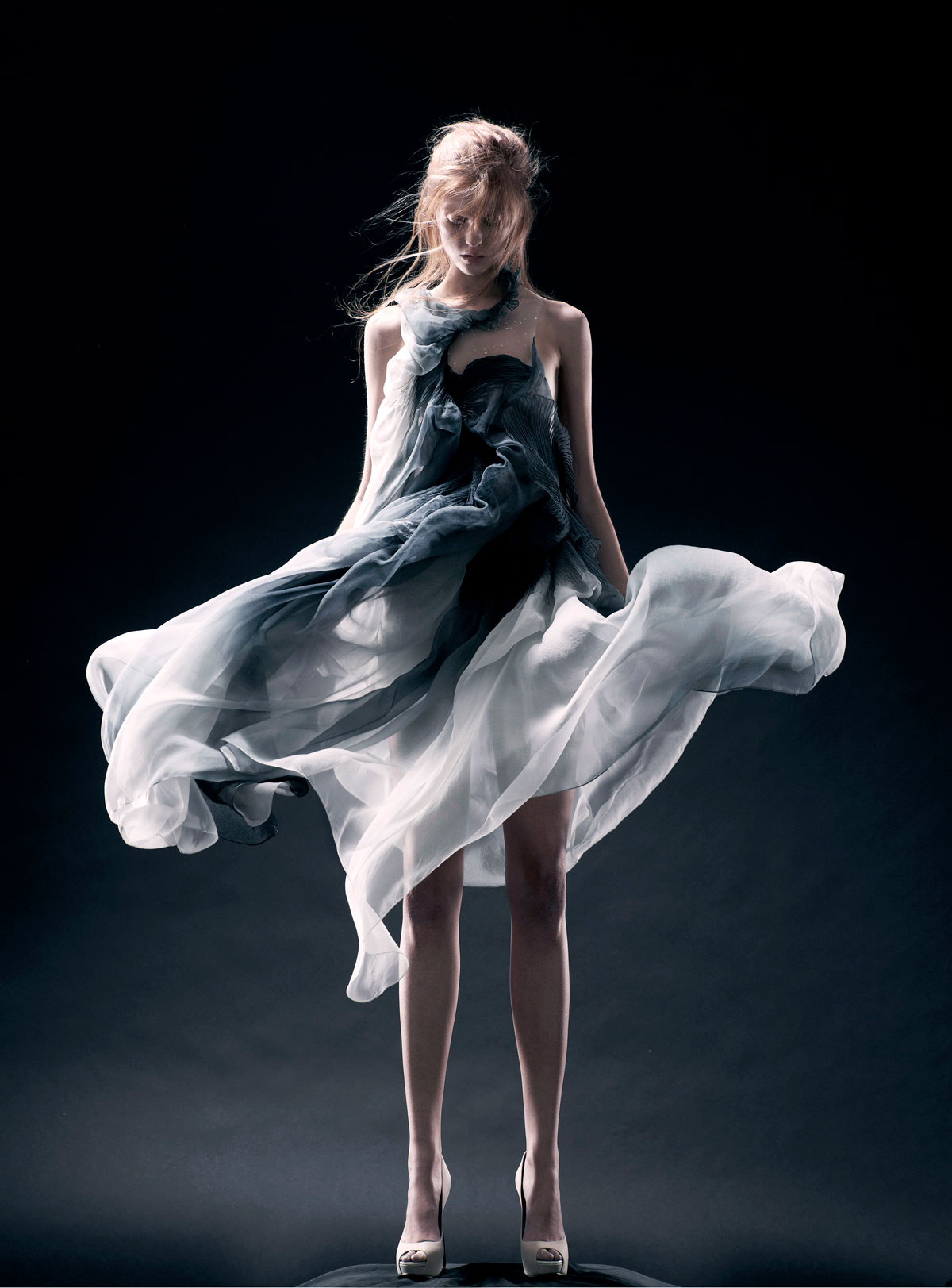 Spring of Nüwa collection, Anémone model.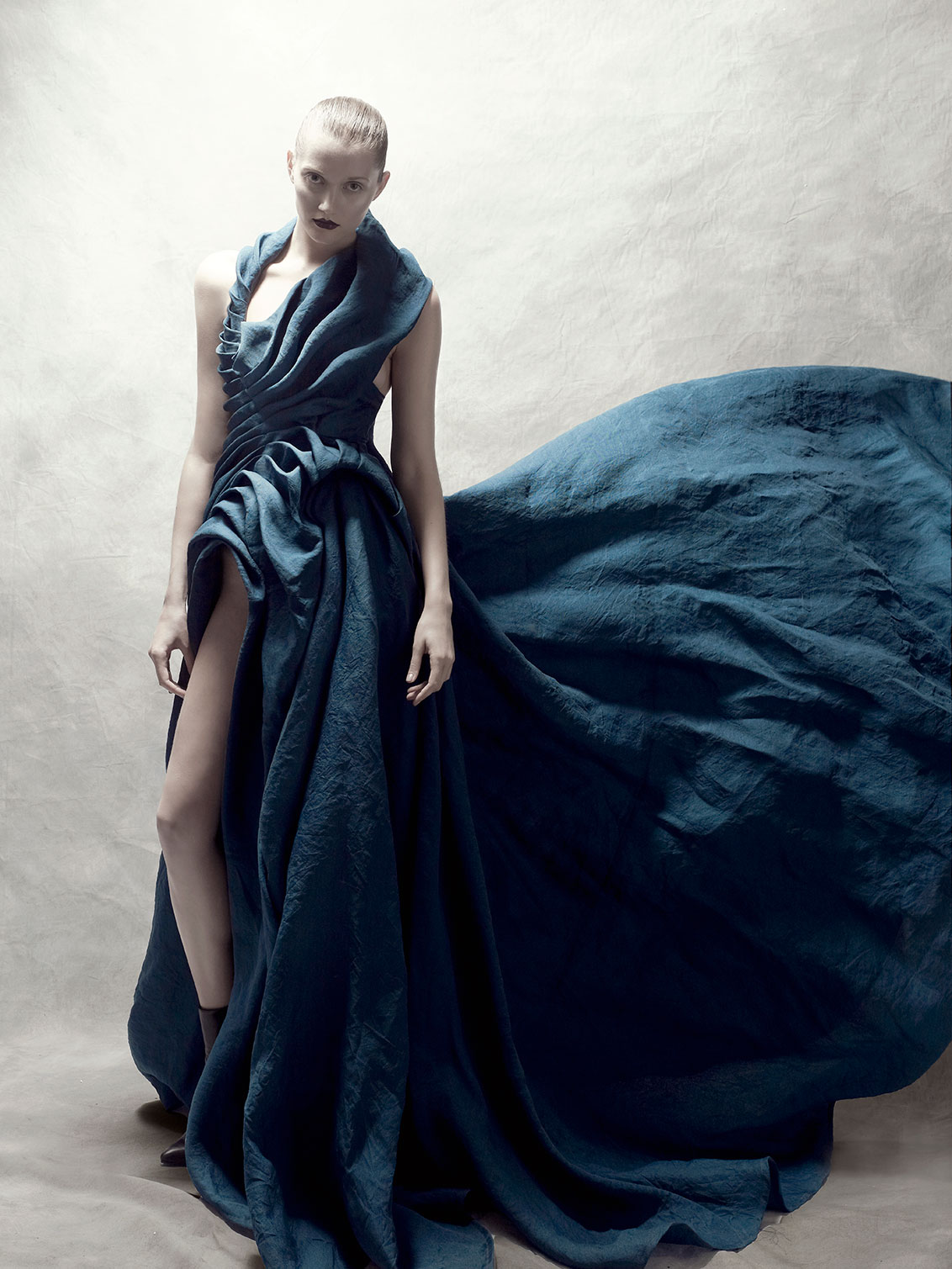 Collection Ouvrir Vénus,
modèle Dépouille.
© L. Laborie.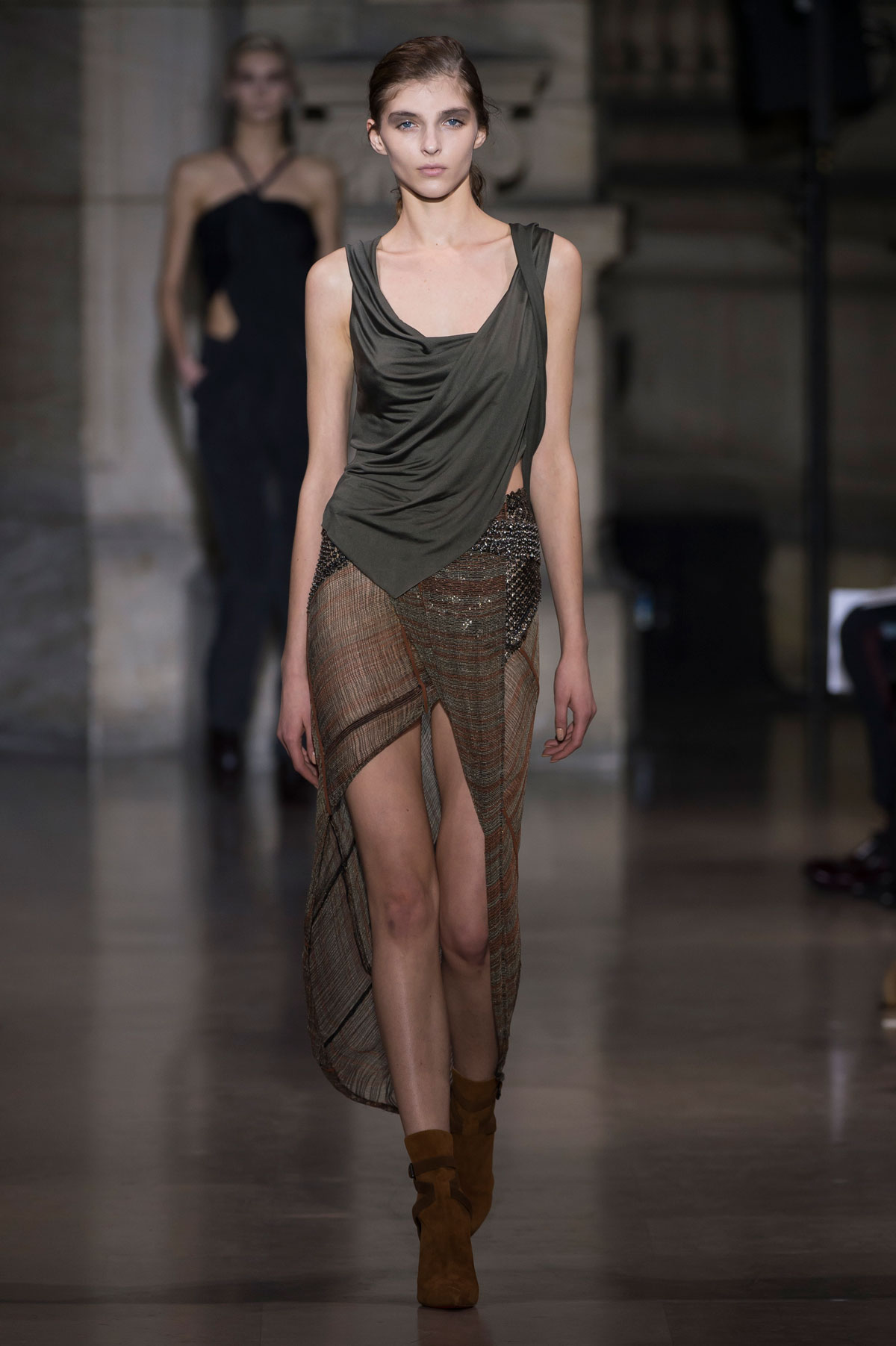 Collection Blooming Ashes,
modèle Astral/Sierra.
© S. Fuji.
Collection Blooming Ashes, modèle Astral/Tilda. © S. Fuji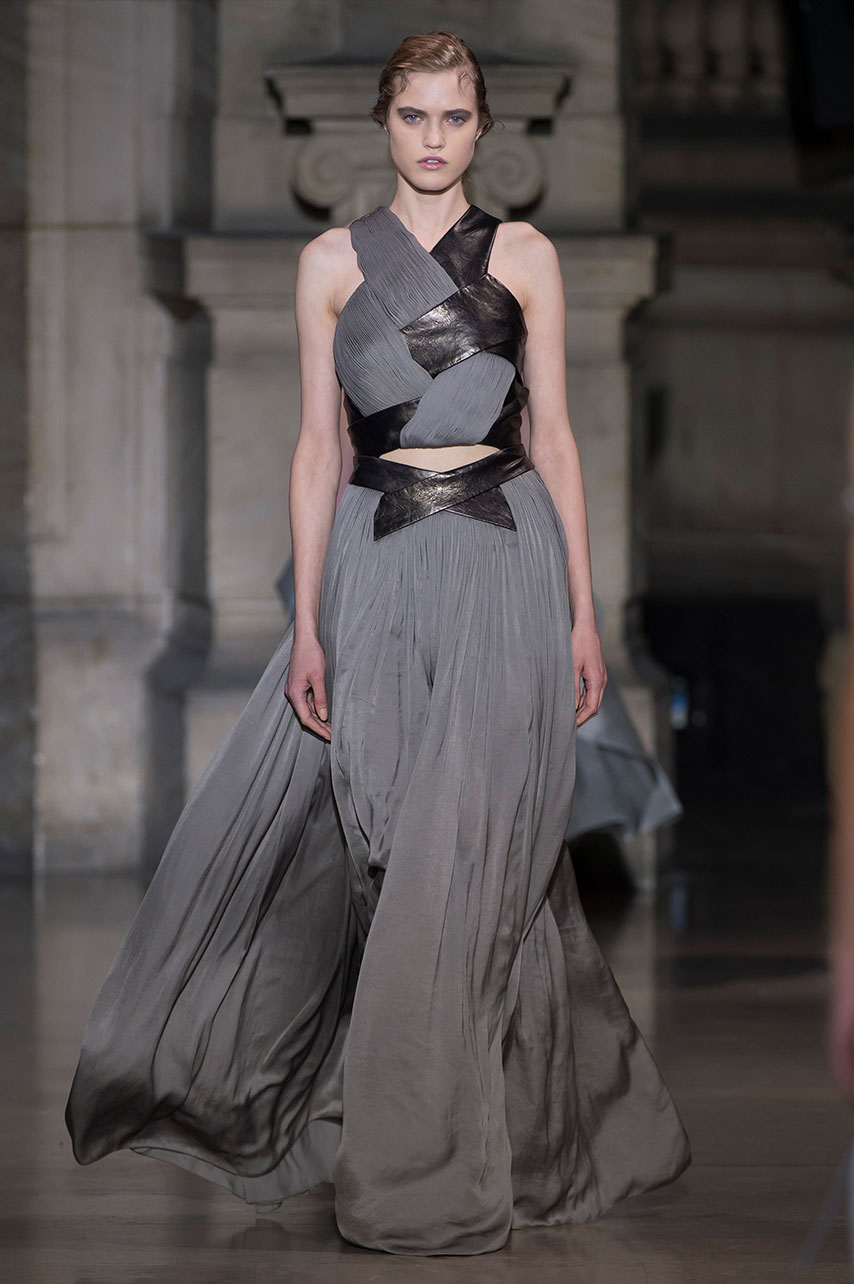 Collection Blooming Ashes, modèle Sophie.
© S. Fuji.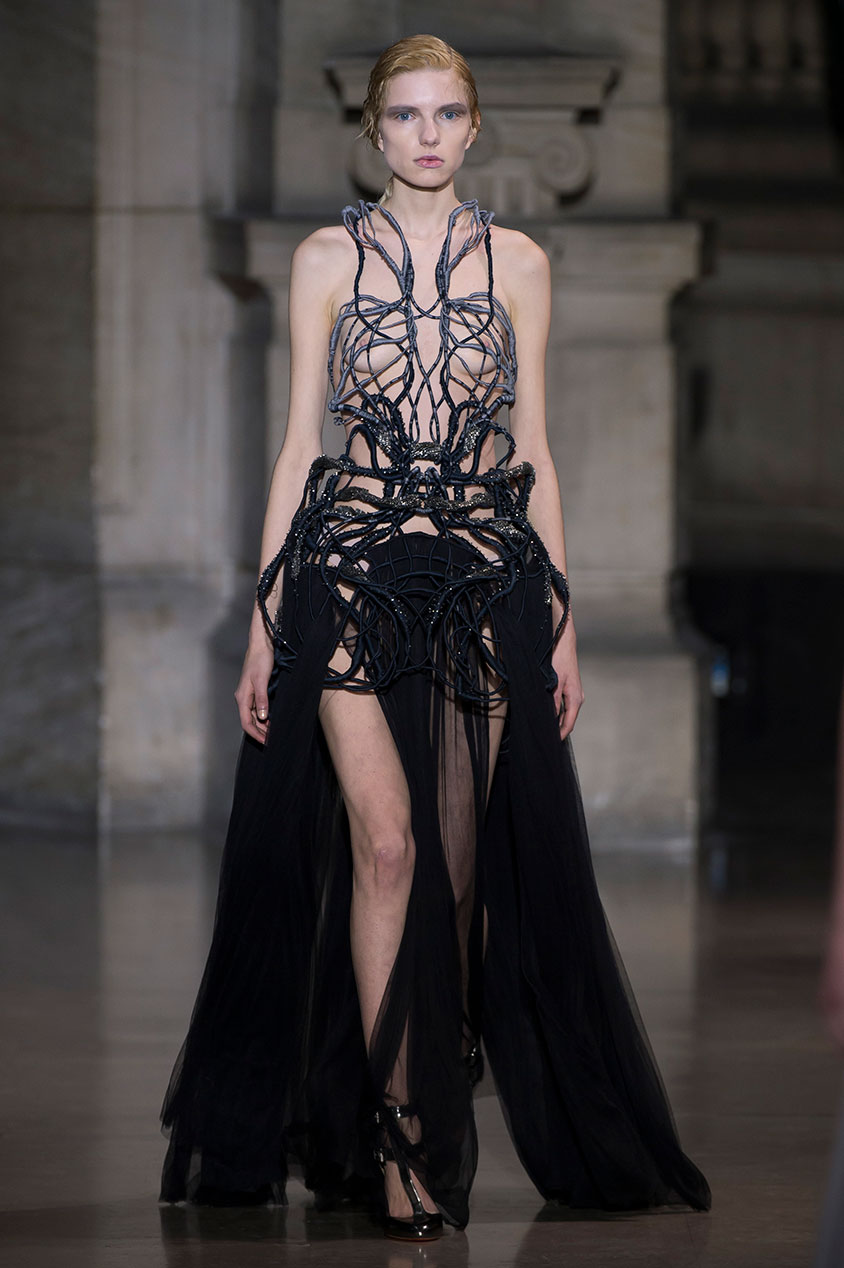 Collection Blooming Ashes, modèle Crépuscule.  © S. Fuji.