- Trends -
Map of
planet Luxury

Thomas Mondo is a Creative Strategist, a still little-known profession in France which closely combines strategy and creation in brand consulting. The founder of Bel-Ami, a communication think-tank devoted to Luxury and Lifestyle companies, he decyphers the strengths and particularities of the five big groups composing the luxury universe.
RICHEMONT
—
Founded: 1988
Founder: Johann Rupert
DG: Jérôme Lambert
Activity/product portfolio: Richemont owns 17 Maisons focused on watchmaking, jewelry and writing instruments as well as fashion and accessories: Cartier, Van Cleef & Arpels, Montblanc, Jaeger-LeCoultre, Azzedine Alaïa, Piaget, Officine Panerai, Vacheron Constantin, Giampiero Bodino, Yoox Net-a-Porter Group, Chloé, etc.
Number of employees: 28,740
2017 turnover: €10.647 billion

Thomas Mondo's vision: Richemont is the "High Jeweler" of the luxury industry, with an offer that is 90% structured around watchmaking and jewelry Maisons. This is therefore an ultra-concentric approach which is a strength but can also swiftly become a weakness (as highlighted by the anti-corruption policies in China in 2012 which slowed sales of Swiss timepieces). Showing visionary foresight, Richemont launched a major coup by matching luxury with digital through its investment in the Net-a-Porter online retail destination, and then with the Yoox/Net-a-Porter merger.



HERMÈS
—
Founded: 1837
Founder: Thierry Hermès
CEO: Axel Dumas
Activity/product portfolio: five companies in the universes of leather goods/saddlery, jewelry, watchmaking, clothing and textiles, home, perfumes: Hermès, John Lobb, Cristallerie Saint-Louis, Puiforcat, Shang Xia.
Number of employees: 13,483
2017 turnover: €5.549 billion

Thomas Mondo's vision: Hermès is the very definition of luxury. An unadulterated, unspoiled, coherent, continuous, artisanal approach since its creation. Paradoxically, Hermès does not define itself and absolutely does not want to be qualified as luxury. It is a company that creates high quality "products" with a history. A group with a family-based structure, it is ferociously attached to its independence, and does not wish to take part in a race for turnover and frantic growth. This simultaneously patrimonial and poetic dimension to its philosophy and business approach places it in a league of its own: wooed, widely copied and yet never equaled.



CHANEL
—
Founded: 1910
Founder: Gabrielle Chanel
CEO: Gérard and Alain Wertheimer
Activity/product portfolio: Chanel, Paraffection (Lesage, Lemarié Massaro Goossens, Maison Michel, etc.), Eres.
Number of employees: 20,197
2017 turnover: €8.3 billion

Thomas Mondo's vision: Chanel is the very embodiment of "Made in France" luxury. Through the story of Miss Coco Chanel, the stylish woman who survived all sorts of challenges and finished up flying the flag of Parisian elegance. Through the iconic addresses associated with the brand: rue Cambon and Deauville. Through emblematic ambassadors: Inès de la Fressange, Vanessa Paradis, Anna Mouglalis. Through its patrimonial approach with the acquisition of companies and craft Manufactures re-grouped under the aegis of Paraffection. A will to retain "Made in France" expertise and promote artisans through a unique event: the Chanel "Métiers d'Art" runway show, presented annually all over the world.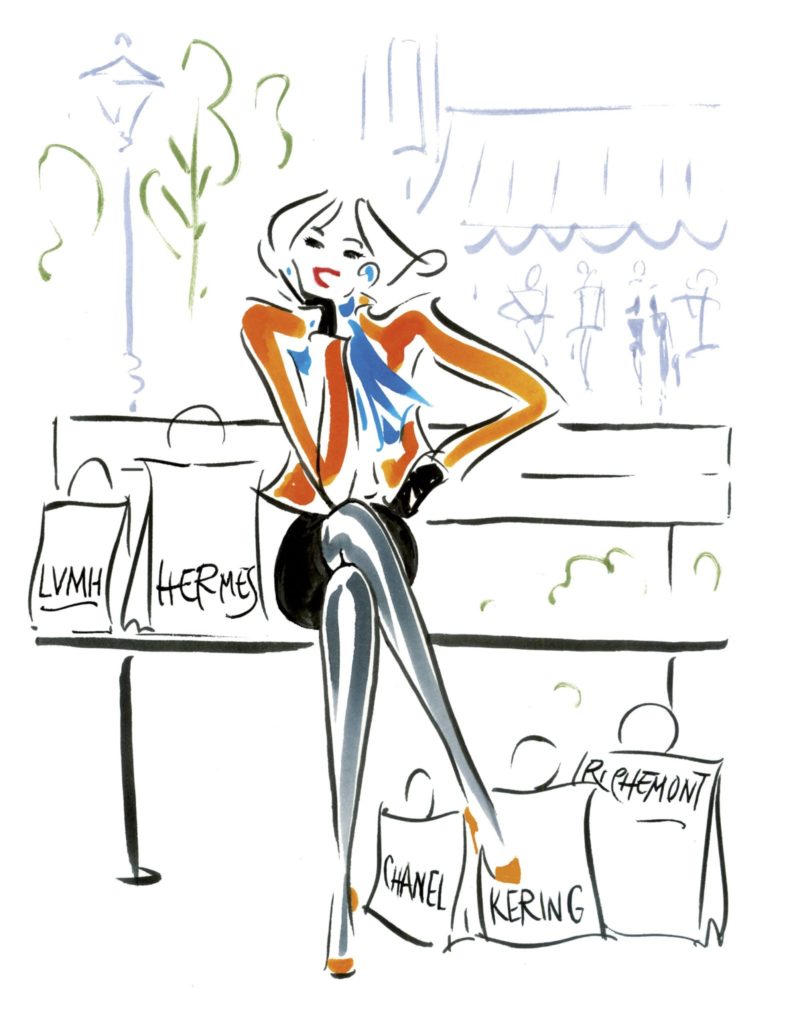 KERING
—
Founded: 1963
Founder: François Pinault
CEO: François Henri Pinault
Activity/product portfolio: Kering regroups 16 emblematic companies in Fashion, Leather goods, Jewelry and Watchmaking: Gucci, Saint Laurent, Bottega Veneta, Balenciaga, Alexander McQueen, Brioni, Boucheron, Pomellato, etc.
Number of employees: 44,000
2017 turnover: €15.5 billion
Thomas Mondo's vision: Kering is the youngest group, because it was created on the foundations of the PPR empire (Pinault- Printemps-La Redoute). After a change of name and identity, it seeks to be the embodiment of sustainable luxury and is committed to preserving the planet (production of the film Home with Yann Arthus-Bertrand), as well as to promoting women and equal opportunity (Chime for Change, Women in Motion). That's what it's pay-off line means: Empowering Imagination. More centralized than its competitor LVMH, it grants its companies total strategic and creative freedom. The Kering Group has one particularity: a strongly fashion-focused barycenter (Saint Laurent, Balenciaga, Gucci) which is both a strength and a weakness. It will become essential in the coming years to re-balance the sources of revenue currently centered on accessories and Bottega Veneta in particular.



LVMH
—
Founded: 1987
Founder and CEO: Bernard Arnault
Activity/product portfolio: 70 Maisons present in five major sectors (fashion/leather goods, perfumes/cosmetics, wine/spirits, jewelry/watchmaking, selective distribution): Christian Dior, Celine, Guerlain, Berluti, Fendi, Givenchy, Bvlgari, Chaumet, Le Bon Marché Rive Gauche, Sephora, Hennessy, Moët & Chandon, etc.
Number of employees: 145,000
2017 turnover: €42.6 billion

Thomas Mondo's vision: This is a metagroup with an organization that is family-based, independent and highly controlled. LVMH is the ultimate embodiment of the revolution that luxury underwent in the 1990s, shifting from isolated companies to a coherent collection of brands sharing the same "creative passion" vision. A mantra which must be transmitted to the entire group: from designers, to seamstresses, to the sponsoring of new-gen designers (LVMH award) through to formalizing new management models (behind the Chief Executive Officer/Chief Administrative Officer tandems) that have become the norm. For example, Yves Carcelle and Marc Jacobs at Louis Vuitton at the end of the 1990s and Sidney Toledano and John Galliano at Dior in the 2000s. Pessimists say that LVMH democratized and mass marketed luxury with Louis Vuitton, but we should give the group credit for the idea that it literally conceptualized the sector as we know it today.


> See the figures sources