- Œnologie -
Tony Parker
& Michel Reybier
An obvious meeting of minds
An encounter between a major figure in international sport, Tony Parker, and visionary entrepreneur Michel Reybier was an entirely natural occurrence in the context of a shared playing field rooted in daring and excellence. It very quickly became a winning relationship, sure to bear wonderful fruit. Grapes, in this case, promise a "rosé" future. As a leading duo, Tony Parker and Michel Reybier are partners in the future of Château La Mascaronne and this vineyard clinging to the hills of Provence can now dream of conquering the world...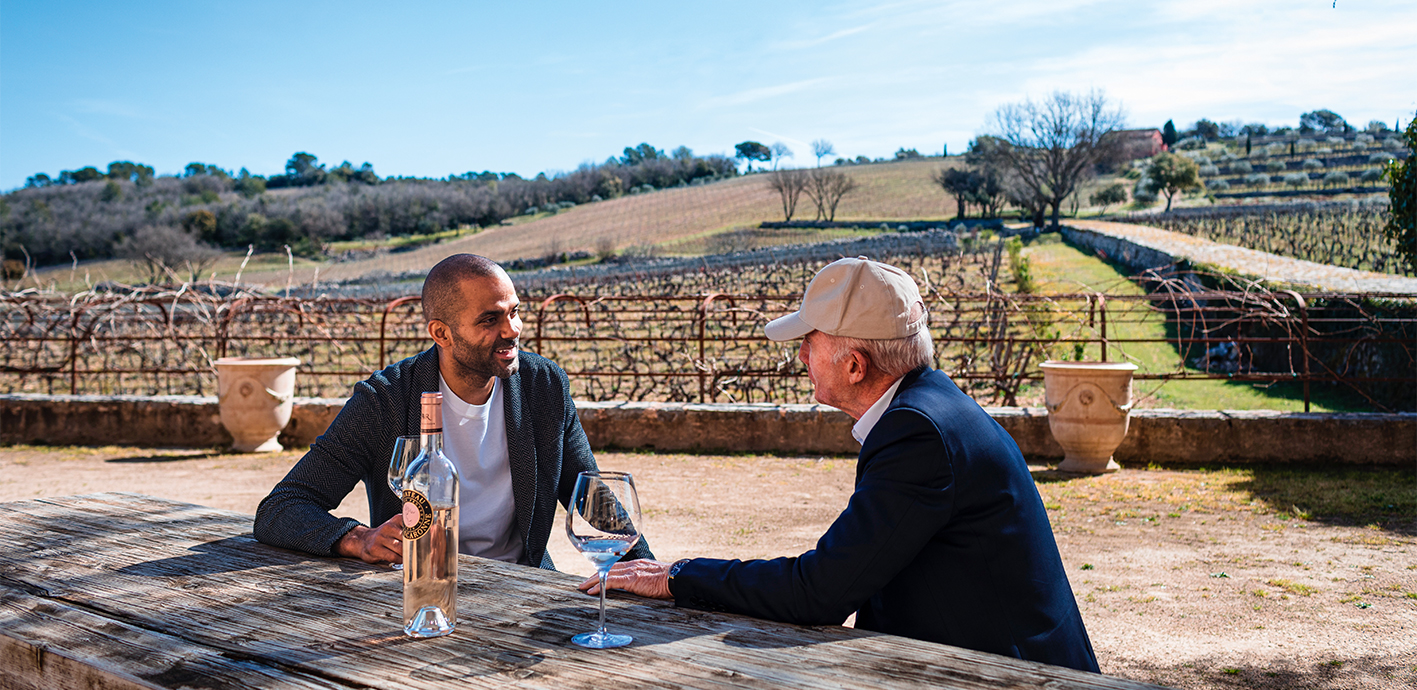 Over and above their discreet and charismatic personalities, Château La Mascaronne's prestigious ambassadors are united by their passion for wine. For Michel Reybier, who is already at the helm of Cos d'Estournel, Champagne Michel Reybier and the historic Hungarian vineyard Tokaj Hétszölö, this is a long-standing love affair. For Tony Parker, discovering the world of Bacchus is an epicurean pleasure, linked to the world of gastronomy.
Why La Mascaronne? According to Michel Reybier, this estate is special, very special... "I had been looking for a wine estate in Provence for a long time", he explains, "a region that I love above all others because I have been living in Ramatuelle for 40 years. But nothing I visited appealed to me, until one day I came across this gem. I fell so in love with it that I decided to buy it that very afternoon in 2020. I was thrilled by everything, its configuration, its charm, its biodiversity. This positive impression was confirmed even further when I discovered the quality of the work carried out by Nathalie Longefay on the vines and the wine, which she continues to do with us as Technical Director Oenologist."
For his part, Tony Parker is no stranger to entrepreneurship. Majority shareholder and president of the Asvel Lyon-Villeurbanne basketball club and of the Lyon Asvel women's club, he is also the happy owner of the ski lift company in the Villard-de-Lans ski resort and does not hesitate to put on his coach's hat to accompany the reconversion of high-level athletes. At Château La Mascaronne, this chic, relaxed winegrower has no intention of being a bystander. "I've been thinking about investing in wine for a long time", he confirms. "And I'll do it like everything else I do: by giving my all. It's in my nature as a sportsman to go the extra mile. I really want to learn, to discover the subtleties linked to the production of a great wine and also, to put down even stronger roots in France, in this much-loved Provençal terroir."
Buoyed by the experience, elegance, perfectionism and success of the distinguished pair, the future looks decidedly "rosé" for La Mascaronne, whose "exceptional wine deserves to be taken very far", conclude Michel Reybier and Tony Parker, speaking with one voice.
Welcome to the château
With its 60 hectares of certified organic vines planted on terraces around a typically Provençal bastide (dwelling), and with the benefit of its microclimate, La Mascaronne unfolds its charms at an altitude of 300 meters. Produced 100% from the property's own vines – a rare feat in itself which justifies the "Château" appellation – grapes are harvested by hand in the early hours of the morning and sorted twice, "excellence oblige", as Nathalie Longefay points out.
Is Provençal rosé on the rise? It is associated with holidays, summer, joy and lightness. So much the better! It is nonetheless a great wine when it is produced according to the proper rules. La Mascaronne is a structured, subtle, complex nectar, with substance and consistency, and is the fruit of a terroir blessed by the gods, unique biodiversity and the meticulous hand of man.
Its color? 

Pale pink, luminous with silver highlights.

Its nose? 

It exhales aromas of peach, apricot and white flowers.

On the palate?

Its roundness, elegance, delicacy and freshness are expressed through citrus notes tinged with fruity sensations.

When to drink it?  

All year round, it is irresistible as an aperitif, and is the ideal accompaniment to grilled fish, scallop carpaccio, ice cream, strawberries, etc. and perfect for relaxed, casual, festive atmospheres.

At what temperature?

Ideally, it should be drunk at ten degrees to appreciate all its aromas, and without ice of course!

More? 

Its flavor remains intact after one or two years of aging.
_
By Michèle Wouters
Photos © G. Gardette - S. Clavel
Alcohol abuse is dangerous for your health. Drink in moderation. Alcohol should not be consumed by pregnant women.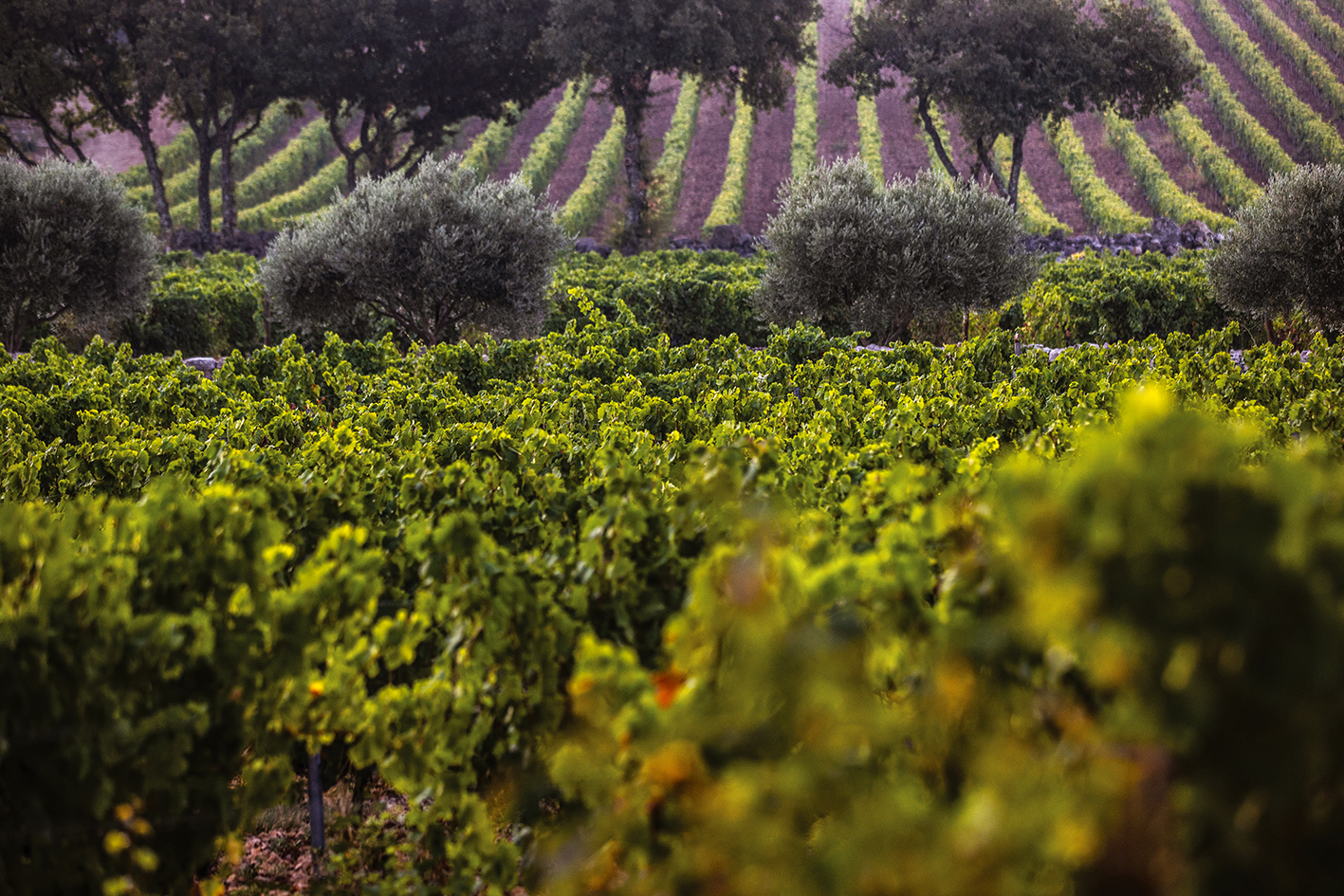 © G. Gardette