- Jewelry -
Multicarat
transparency
Diamonds may be forever, but the standards governing them are changing. The principles of ethics and transparency are gaining ground across all sectors and the diamond industry is part of this groundswell: the vibe is no longer about succumbing to the sparkle of the most legendary gemstone regardless of its background. In tune with contemporary society, the great Maisons are moving towards a new code of ethics.
While the world luxury market grew 5% in 2017, diamonds continue to lag behind, after notable stagnation in the United States in 2016*. Experts point to slower demand, partly due a shift in purchasing patterns. The time-honored "A Diamond is Forever" slogan used by diamond merchants and jewelers since 1945 no longer seems to match expectations. The Blood Diamond movie starring Leonardo DiCaprio and released in 2006 just after Kanye West's 2005 song Diamonds from Sierra Leone made a lasting impression. For understandable reasons, they undeniably damaged the image of an industry associated with wars in Africa and trafficking of all kinds. Especially since the Kimberley Process instated by the United Nations to clean up the trade has globally proved to be a failure.


DIAMONDS GET THEIR GLASNOST MOMENT
Keenly aware of the challenges, key market stakeholders undertook an ambitious ethical certification approach last year – involving both stricter control procedures and a radical change of image. The Diamond Producer Association unveiled its new motto "Real is Rare, Real is a Diamond". It's no longer a question of purchasing eternity, but instead about acquiring a fragment of authenticity. In parallel, the big names are proudly proclaiming their vigilance with regard to the conditions of gemstone production. In June 2017, the great London-based House of Graff drafted a Code of Conduct encompassing all its activities and those of its suppliers. The company is now taking things to the next level by affirming its values and definitively rejecting any collusion with conflict zones and human exploitation in all its forms. Meanwhile, Cartier speaks of a "Duty of Excellence", a natural corollary of the "Tradition of Excellence" that
the Maison has been upholding since 1847. This commitment is embodied in a broad-scale Corporate Responsibility program, of which the Ethics section notably emphasizes an approach based on extreme vigilance in diamond sourcing. In the same spirit, De Beers has set up a platform enabling buyers to ascertain the origin of gemstones and, alongside its Best Practice Principles, also supports an NGO dedicated to helping women in war-torn countries: "Women for Women International". A range of initiatives entirely in tune with the general evolution of society.


DIAMONDS ROCK
With "Real is Rare", diamonds become the emblem of genuine ties and an authentic commitment, although here too, the codes have shifted – as a glance at the associated Instagram account quickly reveals. Less directly linked to engagements – with the average age for getting married now pushed back to 27 for women and 29 for men –, diamonds are now considered as precious fashion accessories. Creativity and design have taken over from the previous more classic approach. In the United States, colored diamonds account for 60% of sales compared with 40% for their traditional solitaire counterparts. In the same vein, the advertising campaigns run by major brands reflect this generational renewal: couples are no longer heterosexual and white, while unexpected muses are shaking up the brand image of venerable Maisons: Taylor Swift, Lady Gaga, Elle Fanning, Zoé Kravitz and St Vincent for Tiffany, Rihanna for Chopard, Gigi Hadid for Messika and Cara Delevingne for de Grisogono. Diamonds are indeed forever…


* Bain & Company – December 2017 report.


By Anne-Marie Clerc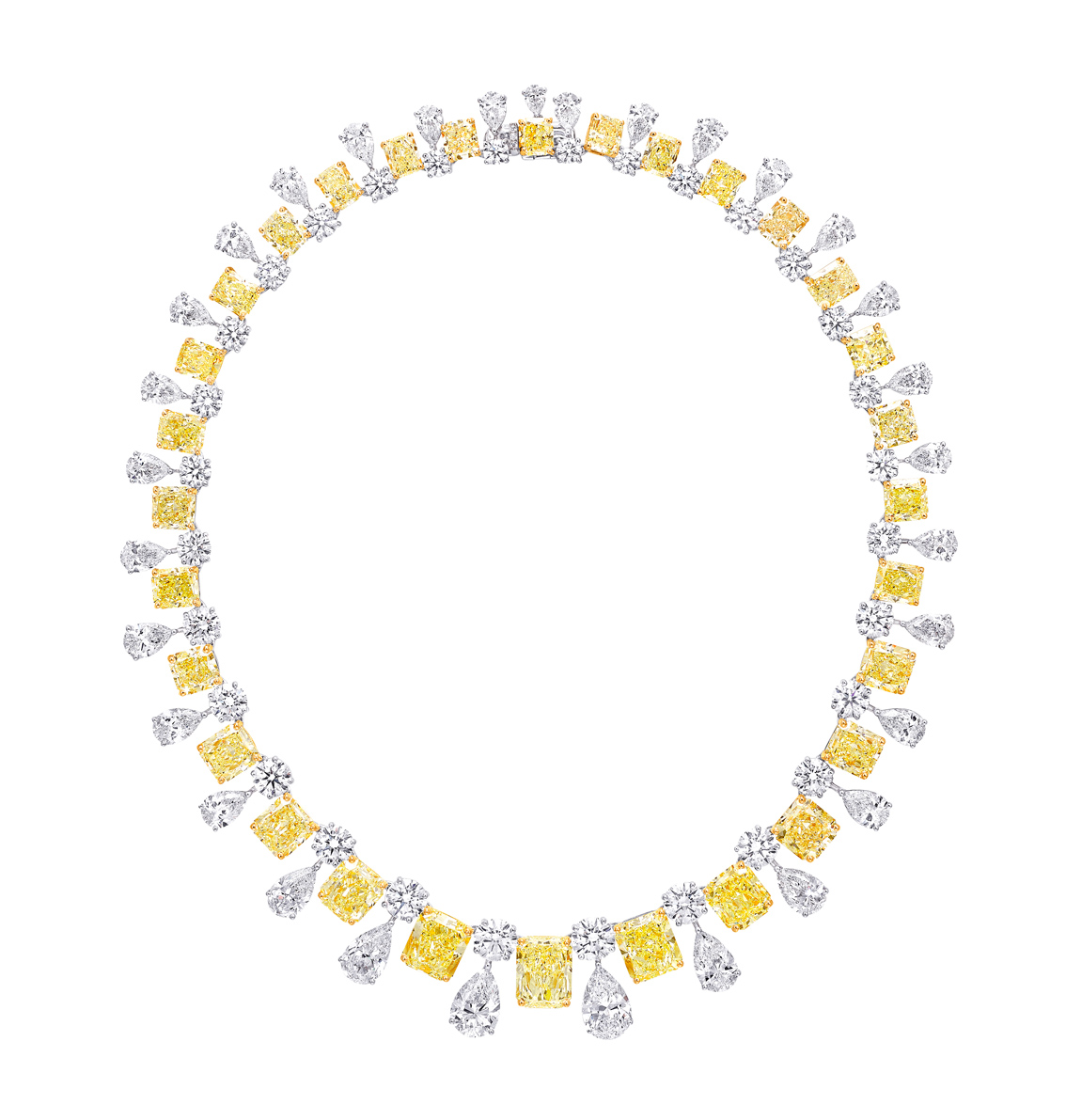 Graff : Collier diamants jaune et blancs